Keep the Investment Climate, Chamber of Commerce and Industry (Kadin) Hopes The Government Is Not Increasing Interest Rates
By : Ridwan And Aldo Bella Putra | Friday, February 23 2018 - 18:00 IWST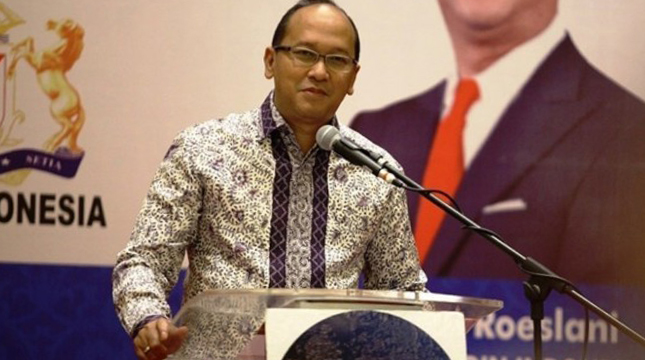 Ketua Umum Kamar Dagang dan Industri Indonesia (Kadin) Rosan Perkasa Roeslani (Foto: Ist)
INDUSTRY.co.id - Jakarta, the Indonesian Chamber of Commerce and Industry (Kadin) expressed its hope that Bank Indonesia will be able to maintain interest rates and not raise it for the foreseeable future.
This is in line with government measures that want to spur the private sector to contribute to economic growth.
Chairman of the Indonesian Chamber of Commerce and Industry, Rosan P. Roeslani assessed that if interest rates of banks rose there is a concern for entrepreneurs to withhold investment. Therefore, higher interests rates will make employers tend to save money or divert funds to portfolios that are not risky.
"Later when interest rates are higher, the tendency of people to save money in the bank than trying," Rosan said in Jakarta (23/1/2018).
In addition to holding money to invest, it also affects business actors in boosting production because high interest rates will add to the cost burden especially for the sector of Small and Medium Enterprises (SMEs) is increasingly difficult to grow its business if the interest rate of the bank raised.
"As interest rates raise, the cost for entrepreneurs will be high, especially as we are required to be more competitive, our goods, especially in boosting exports," he said.
He hopes, Bank Indonesia (BI) is able to keep the current interest rate of 4.25 percent so that national banks can apply the same thing on their credit interest.
"Want me to want this interest rate do not go up, especially for small and medium business is already there is a policy from the government also If the business world do not want to go up," he hoped.
Based on the Board of Governors Meeting (RDG) on 14-15 February 2018, Bank Indonesia decided to keep the BI 7-day Reverse Repo Rate fixed by 4.25 percent with the Deposit Facility rate remaining 3.50 percent and the Lending Facility fixed at 5.00 percent. These provisions apply as of February 19, 2018.
The policy was taken as a consistent effort to maintain macroeconomic stability and financial system and contribute to the recovery of the domestic economy. Bank Indonesia sees that the easing of monetary policy has been sufficient to continue to boost domestic economic recovery momentum.
In addition to wanting to keep interest rates unchanged, Rosan also hopes that inflation will be maintained as it is directly related to rising or falling interest rates.
He also again reminded that the government can keep interest rates and create a conducive climate to run the business.