A Lunar New Year Celebration of One Parc Puri
By : Ridwan And Aldi Firhand. A | Sunday, February 25 2018 - 18:58 IWST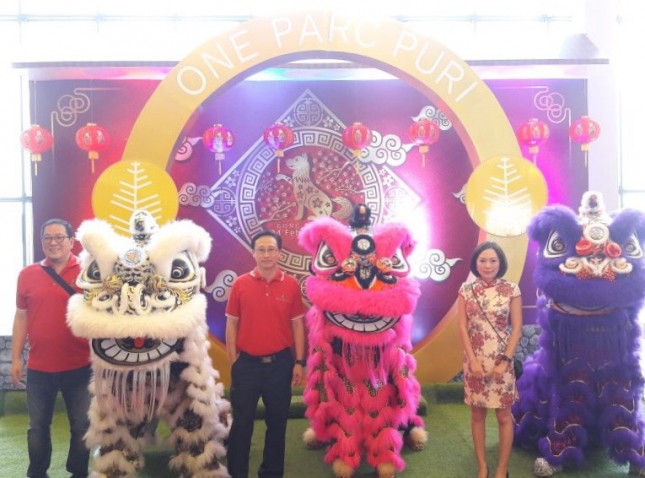 Chinese Lunar New Year Celebration One Parc Puri (Photo: Doc. OPP)
INDUSTRY.co.id - Jakarta, One Parc Puri Chinese New Year Celebration (OPP) today (24/02/2018) held a Lunar New Year celebration.
Through this event, OPP invites the community to celebrate together with great joy, new spirit in the new year, gain a memorable and value-added experience, just as OPP helps bring hope of a comfortable, safe, and classy residence.
The event was held for a full day on February 24, 2018 from 10:00 am to 17:00 pm. The show features activities such as the China art show, family education, and other exciting events including the Dim Sum Party.
Chinese art show featuring lion dances, and Bian Lian special show, while educational activities will be filled with lantern painting workshops, and Talkshow about Feng Shui and Lifestyle of the Today.
Talk show activities bring young Feng Shui experts, Jeani Kumala Dewi and Exploring Hopesakan activities filled with Tarot reading and tour to the units offered by OPP.
During the event will also be held a quiz for the visitors with a variety of interesting prizes. OPP also provides attractive prizes for the most creative photos and captions on instagram with hashtag #oneparcpuri and # imlek2018 during the event.
Experience One Parc Puri One Parc Puri is a project property by PT MKA, which is a collaboration between Indonesian and Singaporean companies namely Metropolitan Land, Karyadeka Group and Ascendas Singbridge (MKA).
Cooperation with Singapore developers puts OPP as a high quality property project in terms of design, facilities, safety and comfort, and more.
OPP also has several world-class consultants such as Aecom, P & T Consultants, Colin K. Okashimo & Associates, and Brandston Partnership Inc. One Parc Puri brings Connected in Vision as the main theme that presents a different residential experience than ever.
Connected in Vision is manifested through the new work office home office (WOHO) concept, which unites the family room with the workplace, and is the only developer who brings this concept in Indonesia. Connected in Vision theme is also presented through the building design with walking path that connects between buildings.
OPP has a very strategic location, just 1 minute from the Karang Tengah Toll Gate, which connects OPP with the airport, the outer ring road and inner circle, other business areas in Jakarta, even other out-of-town destinations. OPP is in an area with Metland Cyber ​​City (MCC), which is projected to become a center of entertainment and business in the future.
MCC will be an integrated area with facilities such as hospitals, schools, shopping centers, offices, and others. One Parc Puri will occupy a land area of ​​9.7 hectares and the development process will run in four stages. The first phase will consist of two towers, Orchieda and Olea, with an area of ​​1 hectare.
Orchidea is a 41-storey residential tower that comes with four types that is Studio, One-Bedroom, Two-Bedroom, and Two Bedroom +, while Olea is a 34-story tower for offices, WOHO and Work Loft. When construction is complete, Olea and Orchidea offer a total of 1,132 units in both towers.