Progress of Second Biggest PLTB, Tolo-I Jeneponto Has Achieved 65 Percent
By : Hariyanto And Aldo Bella Putra | Monday, February 26 2018 - 16:00 IWST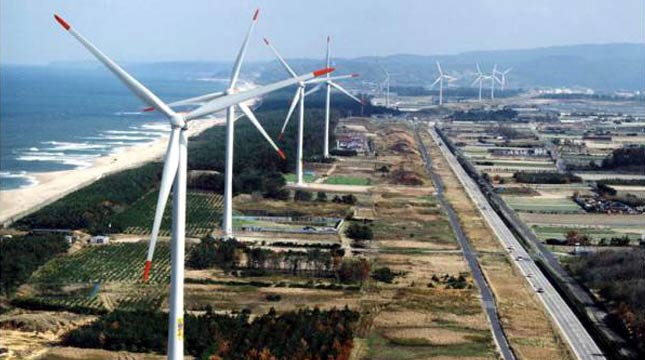 Ilustrasi PLTB (ist)
INDUSTRY.co.id - Makassar - The blades of 63 meters long are slowly being transported to the construction site of the Tolo-I Bayu Power Plant (PLTB) since Sunday (18/2) night using a special truck.
The dimensions of each vane are very large, not only was the length reaching 63 meters, the width up to 5 meters with a weight up to 80 tons. The transport of one more propeller takes about 10 hours.
The plan, in PLTB Tolo-I will be installed 20 wind turbines with each capacity of 3.6 Megawatts (MW), so the total capacity of the plant reaches 72 MW. No less than 60 propellers will be shipped to the project site until the end of April 2018.
The turbine model installed in this PLTB uses Siemens DD On-Shore 3.6 WTG where 2 units of Siemens transformers are installed with capacity of 45 MVA each.
Currently, PLTB works with an investment of USD 160.7 million has entered the stage of installation of towers and turbines. Day after day, strategic projects of PLTB development are continuously accelerated. Until February 23, 2018, the overall progress of the project reached about 65%.
Of the total 20 Wind Turbine Generators (WTG) targeted installed, 11 of them have finished foundry tower foundation process with 750 m3 of concrete, 26.6 meters in diameter and 4 meters depth. Meanwhile, the rest of the turbine in the stage of reinforcement.
Later, the wind-based plant will be connected with a transmission network of 150 kV. A total of 4 of the 10 150 kV transmission towers have been completed, which will be interconnected through the Jeneponto Substation. While the control and service building is still in the process of workmanship.
PLTB Tolo-I is generated from a wind speed of 6 m / s which is a large enough wind potential to be developed commercially. The Power Purchase Agreement (PPA) signed by the State Electric Company with PT. Jeneponto Bayu Energy from November 14, 2016 with electricity selling price of US $ 10.89 cent / kWh.
Based on the PPA, the project will be completed and the Commercial Operation Date (COD) on November 14, 2019. The presence of PLTB Tolo-I Jeneponto will complement the presence of Sidrap PLTB to increase the contribution of wind-based energy in Indonesia, in addition to increasing the reliability of electricity in South Sulawesi, this electrification ratio has reached 99.12%.