JETRO Holds Japan Healthy Lifestyle Exhibition
By : Dina Astria And Aldo Bella Putra | Sunday, March 04 2018 - 16:00 IWST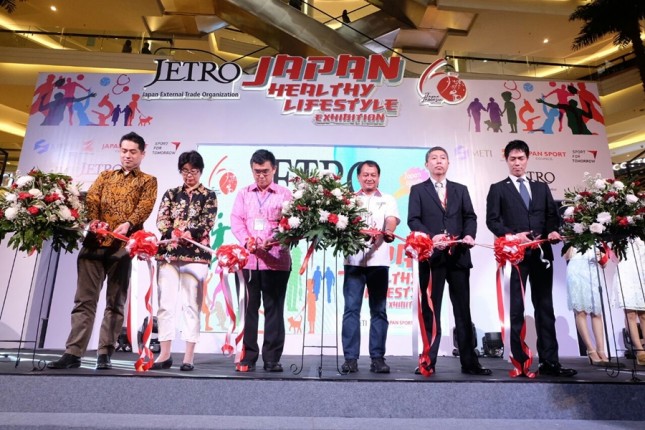 JETRO Adakan Japan Healthy Lifestyle Exhibition. (Foto Ist)
INDUSTRY.co.id - Jakarta - On March 3-4, JETRO will host the Japan Healthy Lifestyle Exhibition at the Kota Kasablanka shopping center, Jakarta, Indonesia. The purpose of this event is to introduce health-related products and services from Japan to consumers in Indonesia. Japan Healthy Lifestyle Exhibition itself began in 2014 and has been held in Yangon, Ho Chi Minh, Bangkok, and Hanoi. This time it is the fifth implementation of this exhibition as a commemoration of 60 years of diplomatic relations between Japan and Indonesia.
Daiki Kasugahara as President Director of JETRO Jakarta said, "This is the first time JETRO has held a healthy lifestyle exhibition event in Indonesia since it was first held in 2015. This year is a special year, where the events enliven the 60 years of togetherness of Japan and Indonesia. Hopefully in the future, Japan's healthy lifestyle can inspire the people of Indonesia and established good cooperation between Japan and Indonesia. "
Number of Most Participants for The Implementation In The Shopping Center
There are 53 companies and health care related organizations that support a healthy lifestyle in Japan. For sports, there are a variety of fitness equipment, supporters, and table tennis equipment. For daily health care there are tensimeters, body composition gauges, and toothbrushes. As for the elderly care there are care services. For visitors looking for healthy food, there are unsweetened drinks and supplements, and for beauty products there are massage machines and cosmetic products. Japan Healthy Lifestyle Exhibition held in shopping center this time is the exhibition with the most participants compared to the exhibition held in Bangkok in March 2016 and in Hanoi March 2017. In addition to the booth filled by companies and organizations of exhibitors, there is also a show on stage during the exhibition.
Implementation of Promotion Through Sport-Focused Experience
The percentage of children (5-12 years) who are obese in Jakarta has more than doubled in 3 years since 2010 (up from 12.8% in 2010 to 30.1% in 2013). Indonesia is predicted to experience new health problems, such as the increase of adult diabetics from about 10 million people (in 2015) to 16 million people in 40 years. Under these conditions, the public's interest in health and sport is increasing with the number of people doing gymnastics, running and cycling activities in the park on weekends. Therefore, around the exhibition stage will be held Japan Sport Showcase, which is a promotional exhibition to convey the attractiveness of the sports industry in Japan where visitors can feel it yourself.
In addition to watching the stage performances filled by world-renowned freestyle football and world BMX champions, visitors can also try volleyball and stretching games guided by Okayama Seagulls volleyball athlete from the Japanese V-League Volleyball League. Meanwhile, to kick the ball into the target will be given by Toshiyuki Akimoto, from the Japanese J-League league football club who is very experienced in coaching soccer outside of Japan. Visitors can also feel the experience of playing table tennis equipment presented by SAN-EI, table tennis producers (from Nagareyama-shi, Chiba, Japan). In addition, JETRO is also working together to promote Sport for Tommorrow, an international sports contribution program promoted by the Japanese government by 2020 and 2019 Rugby World Cup Japan. JETRO supports the development of exciting Japanese products and services in Indonesia by combining performances, experiences, as well as the introduction of products and services.
Implementation of First Business Meeting for Participant Company Japan Healthy Lifestyle Exhibition
On Monday, March 5, a seminar will be held that introduces the secrets of a healthy Japanese lifestyle from Shoji Sinkai, Vice Director of Tokyo Metropolitan Institute of Gerontology to government agencies dealing with health and medical institutions. Japan is a country known for its life expectancy and healthy life expectancy in the world. The seminar will introduce Japan's experience and secrets in improving health for medical-related parties in Indonesia that will face an increasing number of elderly and lifestyle diseases in the future. On the same day it is also planned to hold a business meeting between Japanese companies participating Japan Healthy Lifestyle Exhibition with business actors in Indonesia who are interested to introduce Japanese products and services. The business meeting for the participating companies of Japan Healthy Lifestyle Exhibition this time is the first time held.
Promoting "Healthy and L To Healthy and Active Class
Indonesia, which has the 4th largest population in the world and the largest in ASEAN with 260 million people, has more than 60% of middle class who have a yearly income of more than 5,000 US dollars. Especially in DKI Jakarta where the Japan Healthy Lifestyle Exhibition is held this time, the GDP (gross domestic product) per capita reaches 14,127 US dollars. This value is more than 4 times the national average and indicates high purchasing power.
The population aged 65 years and above is still small and ranges at 5% (in Japan 27.7%). When viewed by age, the age group is less than 20s the most. In the next few decades the main market players will be borne by a group that is aware of a healthy and active lifestyle. While targeting young people, the exhibition seeks to embed the image of "Healthy and L by introducing Japan's products and services that are useful for health care of various age groups, including middle-aged and elderly groups in the local large shopping malls where gathering upper middle class.