Pharmaceutical Industry Moves, Kimia Farma Build Factory in Saudi Arabia
By : Herry Barus And Aldi Firhand. A | Monday, March 05 2018 - 21:21 IWST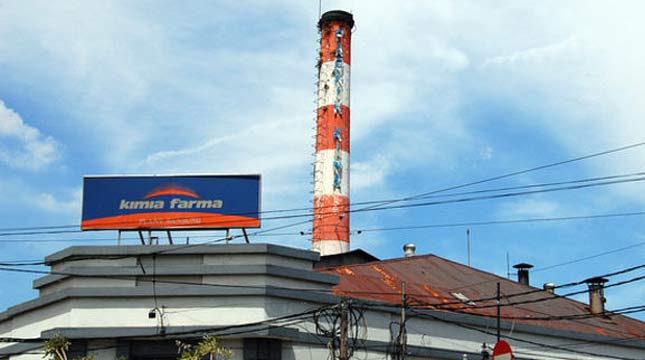 PT Kimia Farma Tbk (KAEF)
INDUSTRY.co.id - PT Kimia Farma (Persero) Tbk, through its subsidiary Kimia Farma Dawaa, will build pharmaceutical and health products factory in Saudi Arabia with investment value of around Rp 1 trillion in order to expand the pharmaceutical industry to the Middle East and Africa region.
"The business development review of the plant in Saudi Arabia is in the process of completion, starting in 2020 and is targeted to operate in 2022," said Kimia Farma Dawaa, Ida Rasita, deputy of GM in Jakarta on Monday (5/3/2018)
According to Rasita, the construction of a planned pharmaceutical factory in Jeddah City, Saudi Arabia is a strategic plan for Kimia Farma to expand its business abroad.
He explains, Kimia Farma and Marei Bin Mahfouz (MBM) Group based in Saudi Arabia, recently formed a joint venture, Kimia Farma Dawaa.
In the company Kimia Farma became the majority shareholder, after acquiring a 60 percent stake in Dawaa Medical Limited Company (Dawaa) a subsidiary of MBM.
Kimia Farma's capital investment in Dawaa reaches 38 million Saudi Arabian real estate or equivalent of about Rp133 billion, which is used for the development of the company's business.
This corporate action also marked the beginning of the operation of Kimia Farma Dawaa effectively in March 2018.
Rasita explains, Kimia Farma Dawaa early stage will focus on distribution and retail of pharmacies including opening outlets near the Grand Mosque in Mecca and Nabawi Mosque in Medina, as well as supporting health services for pilgrims and umrah.
But in the long term Kimia Farma Dawaa opened opportunity to build pharmaceutical factory in Saudi Arabia.
"The plant may be built in Jedah, in addition to supplying pharmaceutical products to Middle Eastern countries, also targeted for exports to African countries," he said.
He explains, the pharmaceutical industry in the upstream sector in Saudi Arabia is a bit late developing, so that the country opened and facilitate investment permit for investment.
"The reason Saudi Arabia opens investment opportunities Kimia Farma in the country is a halal guarantee, along with Indonesia which is one of the countries with the largest Muslim population in the world," said Rasita.
That way, halal certification from importing countries can be more easily issued as for the Organization of Islamic Conference countries (OIC).
"Gulf countries, OIC, shopping for body and communications treatments including health insurance are very good," he said as quoted by Antara.
Currently mentioned, only seven pharmaceutical manufacturing companies are established in Saudi Arabia.
By establishing a pharmaceutical factory in Saudi Arabia, Kimia Farma Dawaa can also expand production markets to countries in the Middle East region, including exports to African countries.