Knowing the Palm Oil Dura Deli, the West African Native Plants that Bless the Indonesian Economy
By : Kormen Barus And Aldo Bella Putra | Monday, March 12 2018 - 20:00 IWST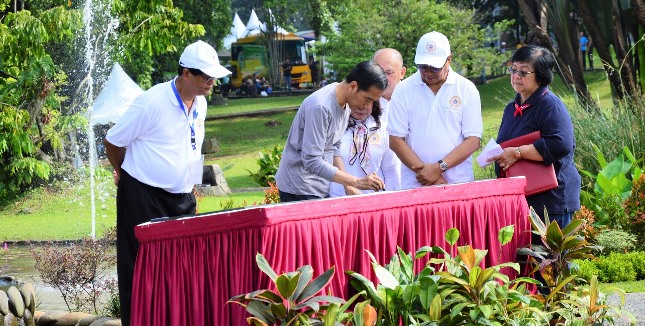 Presiden Jokowi menandatangani prasasti Tugu Plasma Nutfah Kelapa Sawit Indonesia di Kebun Raya Bogor (Foto Dok Industry.co.id)
INDUSTRY.co.id - Bogor, Sunday (11/3/2018), President Joko Widodo (Jokowi) signed an inscription of palm oil germplasm in Bogor Botanical Garden (KRB). This signing is a testament to the government's commitment to the palm oil industry in the future.
However, not many people know that the palm crop that became prima donna in Indonesia comes from the region in West Africa. This plant was brought by a Dutch botanist in 1848.
According to the Head of Center for Conservation of Botanical Garden LIPI (Bogor Botanical Gardens) Didik Widyatmoko, at that time there are four palm tree planted in Buitenzorg Botanical Garden is now known Bogor Botanical Garden. At that time the Dutch collected a variety of suitable plants grown in Indonesia, including palm, quinine and cinnamon.
Sawit became Indonesia's flagship commodity that started from here, said Didik on the sidelines of the 2nd Century Bogor Botanical Gardens and the signing of Tugu Inscription Plasma Nutfah Kelapa Sawit Indonesia in Bogor, Sunday (11/3/2018).
Head of the Indonesian Institute of Sciences (LIPI) Bambang Subiyanto added that the seedlings carried from Africa are first planted right at the location of the inscription. At that time we also did not know whether the productivity is high or not, but obviously the seeds were brought by the Dutch from Africa and now have mastered the economy in Indonesia, said Bambang Subiyanto.
The seeds of the four trees are then grown as ornamental plants and shade on tobacco plantations in Deli, North Sumatra. Looking at the excellent growth, then M Adrien Hallet, a Belgian builds an oil palm plantation on an economic scale of 2,630 hectares (ha) in North Sumatra and Aceh in 1911.
The development of the growing palm oil plantation industry has affected the research and breeding of oil palm seeds. The seeds of oil palm planted in tobacco plantations in Deli then spread throughout Indonesia and Malaysia.
Even the seeds also spread to various oil palm plantations in Southeast Asia, said Director of Oil Palm Research Center (PPKS) Hasril Hasan Siregar.
According to Hasril, because the seeds are widely distributed from Deli, then the parent tree is named Dura Deli. Dura Deli is the mother of palm which until now has reached four generations, he said.
From the parent tree Dura Deli, Hasril continued, has produced seeds of superior oil palm done by the breeders who also has reached four generations. Up to now, a total of 50 varieties of palm oil seedlings, where the germplasm comes from Dura Deli.
PPKS alone has produced 12 varieties of superior seeds, while 14 other seed producers produce 38 varieties. So in total there are 50 varieties of superior palm seed produced from Deli Dura this, said Hasril explained.
Chairman of the Indonesian Palm Oil Association (Gapki) Joko Supriyono said, the four main trees that became the base of the success story was dead in 1992 because of age. Well we do not want to lose that history. So we want to restore that Bogor Botanical Gardens remains a history of palm oil industry development, said Joko Supriyono.
Therefore, Joko appreciate President Jokowi who is willing to sign the plasma inscription nuftah palm oil. This proves that the country has a great commitment to the palm oil industry. With the inscription we also want our grandchildren not to forget that there is an important history for this republic, he said.
Not far from the statue of the inscription, also planted some seeds of palm oil as a collection of germplasm in Bogor Botanical Garden. This is an effort to conserve palm oil germplasm, so that in the future be a source for various research and research activities, he said.