High Calorie Coal Bukit Asam Is Ready to Export to Asia
By : Arya Mandala And Aldo Bella Putra | Saturday, March 17 2018 - 17:00 IWST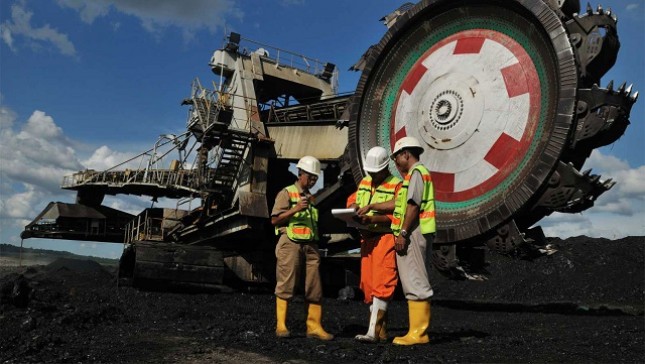 Ilustrasi Tambang Batu Bara PT Bukit Asam Tbk
INDUSTRY.co.id - High Calorie Coal Bukit Asam Ready to Export to AsiaJakarta, High-calorie coal produced by PT Bukit Asam Tbk (PTBA) will be exported to a number of Asia. This step is an effort to accelerate income often steps the government to limit DMO bricks to a maximum of US $ 70 Per Ton.
President of Indonesia Joko Widodo finally signed Government Regulation (PP) number 8 of 2018 about the reference price of coal for domestic domestic market obligation (DMO) needs.
In a derivative regulation in the form of Ministerial Regulation (Permen) of ESDM will require coal producers to allocate 25% of their production for domestic power plants.
In addition, the price set for the DMO limit for electricity is US $ 70 per ton.
Meanwhile, when coal prices fall, it will be based on the reference price of coal. Currently the reference price of coal continues to burn, reaching over US $ 100 per ton.
Responding to the policy, PT Bukit Asam Tbk (PTBA) admitted not anxious. The subsidiary of PT Inalum (Persero) will implement several strategies to keep its coffers not eroded.
One of them re-produces high calorie type coal.
The strategy was expressed by PTBA President Director, Arviyan Arifin. According to him, high-calorie coal to be produced amounts to about 3 million tons with 6,400 kcal of calories.
"We already have buyers who will absorb the high-calorie coal production," he said during a press conference PTBA Performance Exposure in Jakarta, Monday (12/3).
However, Arviyan said that his party needs to make special preparations to produce the coal.
"It's a step, so some buyers have orders first, but we need preparation," he said.
While PTBA Director Adib Abdillah said the high-calorie coal market is mostly from abroad such as Japan, Taiwan, India and Malaysia.
"There are also those from within the country but the numbers are small, especially from the steel smelting industry," Adib Abdillah added.
For sale price Adib said this product will be marketed at a premium price of US $ 5 above the price of other types of coal.
By producing high-calorie coal, PTBA claims to be able to compensate 25% of production to be sold domestically for US $ 70.
In addition, said Arviyan, the price set by DMO is actually still higher than the average price of coal over the last three years.
"Therefore, there is no need to worry about the DMO policy," he explained.
Related to the performance, throughout 2017 PTBA recorded a net profit of Rp 4.47 trillion or an increase of 223% over the same period in 2016 which recorded Rp 2.06 trillion.
The company's EBITDA rose 102 percent year-on-year, up from Rp 2.62 trillion to Rp 5.03 trillion.
The increase in net income according to Arviyan makes PTBA earnings per share (EPS) to Rp 425 or up 124% from the position of EPS in 2016 which amounted to Rp 190.
For capital expenditure funds, PTBA has budget Rp 6.5 trillion to be allocated for Rp 1.4 trillion for routine expenditure.
The remaining Rp 5.12 trillion is for business development investment, including the development of PLTU Mulut Tambang South Sumatera 8.