Half-Day Rest, Composite Stock Price Index Down to Position 6.299
By : Abraham Sihombing And Aldo Bella Putra | Monday, March 19 2018 - 14:30 IWST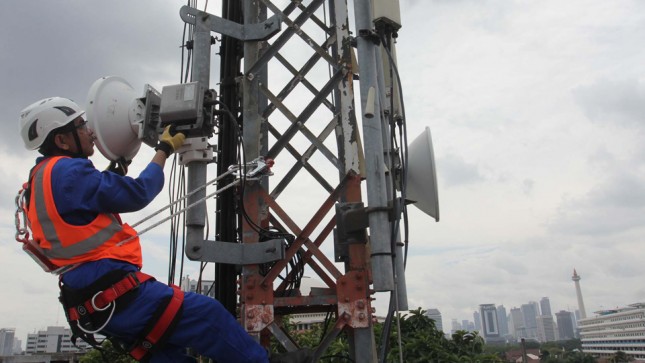 Pekerja memeriksa tower komunikasi milik XL Axiata. (Rizki Meirino/INDUSTRY.co.id)
INDUSTRY.co.id - Jakarta - Jakarta Composite Index (IDX) closed down 0.09% or 6 points to 6,299 position at the end of the first trading session Monday (19/03/2018) compared to last week's position at the level of 6,304.
During the first session of trading today, 179 stocks declined, 151 shares rose, 120 stagnant shares and 165 shares were not traded at all. Meanwhile, IHSG is moving in the range of 6,277-6,319.
The total transaction value of all BEI market segments reached Rp3.75 trillion. It consists of transaction value in the Regular Market worth Rp2.74 trillion and in the Negotiated Market of Rp1.02 trillion.
Meanwhile, total trading volume recorded 49.34 million lots of shares, resulting from 182,127 transactions. Foreign investors recorded net selling of Rp657.02 billion with net sales of 1.12 million lots of shares.
Six of the nine indexes of BEI weakened. The index of miscellaneous industry sectors experienced the deepest decline, ie 2.02% or 25.6 points to 1.244 positions. Then followed by index of basic industry sector and index of consumer sector which each shrink 0,79% and 0,55%.
LQ45 stocks that decline in price and become top losers are MNCN whose price is eroded by 3.79% or Rp55 to Rp1,395 per unit, INCO whose price is down 3.59% or Rp110 to Rp2,950 per unit and HMSP is its price losing 1.38% or Rp60 to Rp4,300 per unit.
Meanwhile, LQ45's top gainers were INDY, whose price rose by 8.46% or Rp280 to Rp3,590 per unit, EXCL which was raised by 4.8% or Rp120 to Rp2,620 per unit and increased price of AKRA 4.76% or Rp275 to Rp6,050 per unit. (Abraham Sihombing)