This Is Bekraf's Commitment to Encourage the Development of Culinary Startup
By : Ahmad Fadli Dan Aldo Bella Putra | Wednesday, March 21 2018 - 16:00 IWST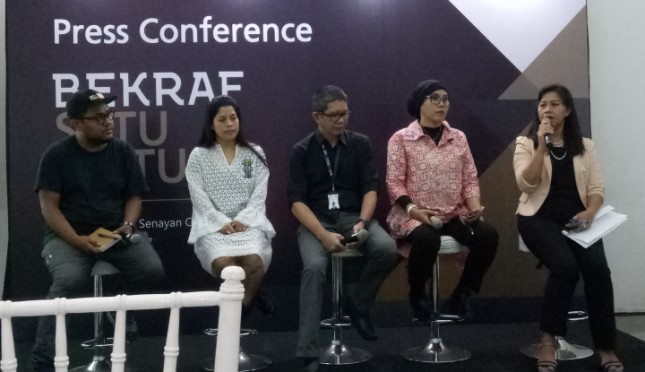 Press Conference Bekraf Satu Pintu
INDUSTRY.co.id - Jakarta - Kasubdit Community Fund Creative Economy Agency (Bekraf) Hanifah Makarim said that the first three years to be a struggle for the startup to be alive. In those times, they are required to be more creative in order to compete and survive. On the other hand, investors are also not very interested to fund them because it is considered high risk.
"The first three years tend to be difficult, only 10 percent of which usually survive and grow. And it is precisely this that becomes difficult Bekraf to find investors who want to invest in a struggling startup. Because the startup does also not know where to get funding other than to the banking," said Hanifah Tuesday (20/3/2018).
For that reason, Bekraf continues to commit them to meet with investors who want to fund them since 2016. At least, there are already about 20 startups from various business sectors that have been facilitated and get investors, including digital startup and startup file man. This time, Bekraf tries to facilitate culinary startup to get the same opportunity through FSI 2018 event in 10 regions.
"Surabaya is the eighth city out of 10 cities where FSI 2018 is held. Bekraf will facilitate 100 Indonesian culinary startups selected in demo day 2018 to gain the opportunity to follow the expo, improve product quality and picth desk while mentoring with mentor network Bekraf who is expert in culinary as well the opportunity to get an investment," she added.
Meanwhile, Capital Access Deputy Bekraf Fadjar Hutomo said that the potential of culinary startup in Indonesia is quite large. Data from the Central Bureau of Statistics (BPS) said that the contribution of creative economy to Indonesia's Gross Domestic Product (PDN), 43 percent contributed by the culinary business.
"Culinary is most easily understood by anyone. We have a kitchen at home, can cook can be sold with go food. This is a banafit for all who will enter in this sector. But the challenge for Bekraf is how to produce culinary products that have a high value, not just business," said Fadjar.
According to him, innovation is not only a culinary startup spirit, but that's the heart of all business. If the business wants to succeed and wants to live long, sustainable and consistent, then the businessman must innovate, let alone startup. As newcomers, they are required to be able to make something different.
"Many business trainers who say observe, imitate and modify, yes the key is modified. Modifications that do not have to be all new, can be about taste, appearance, and way of presentation, place, and way of selling. Because in the end the champions are those who make innovation," he concluded