Half-Day Rest, JCI Closes Up to Position 6.324
By : Abraham Sihombing And Aldo Bella Putra | Thursday, March 22 2018 - 16:30 IWST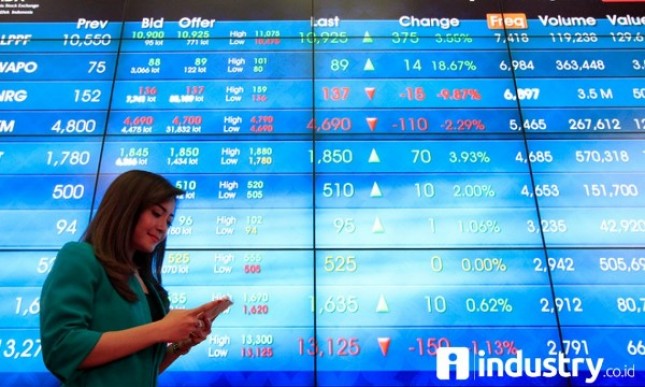 Pengunjung mengamati papan elektronik yang memperlihatkan pergerakan IHSG di gedung BEI (Foto Rizki Meirino)
INDUSTRY.co.id - Jakarta - Jakarta Composite Stock Price Index (BEI) closed to 6.324 positions at the end of the first trading session today, an increase of 0.19% or 11 points compared to the previous day's level at 6.312.
A total of 201 stocks rose in price, 133 stocks fell, 119 shares stagnated. Mayortas rising stocks are stocks of miscellaneous industry, infrastructure and agriculture sectors. JCI in the first session of trading today is moving in the range of 6,324-6,351.
The total value of transactions in the first session of trading across the entire BEI market segment reached Rp5.69 trillion. It consists of transaction value in the Regular Market of Rp3.48 trillion, Negotiated Market worth IDR2.21 trillion and in Cash Market of Rp4.26 million.
Total trading volume was recorded at 75.91 million lots, resulting from 202,729 times transactions. Foreign investors booked net buy worth Rp311.65 billion with net purchase volume of 981,054 lots.
Seven of the nine sector indices of BEI are green. The index of miscellaneous industry sector experienced the highest increase, which was 1.42% or 17.73 points to 1.263 positions. Then followed by index of infrastructure sector and index of agriculture sector which each rose by 1,2% and 0,64%.
LQ45 stocks that experienced price increases and became top gainers were BRPT whose price rose by 3.76% or Rp90 to Rp2,480 per unit, BBTN whose price was raised by 2.98% or Rp110 to Rp3,800 per unit and MNCN with the price increased by 2.9% or Rp40 to Rp1,420 per unit.
Adapaun LQ45 stocks that become top losers are BBRI whose price drops 2.1% or Rp80 to Rp3.730 per unit, BMRI whose price is eroded 1.83% or Rp150 to Rp8.050 per unit and WSKT whose price is shrinking 1, 48% or Rp40 to Rp2,670 per unit. (Abraham Sihombing)