PT Airmas Strengthen E-commerce Business Network
By : Ahmad Fadli Dan Aldo Bella Putra | Saturday, March 31 2018 - 16:00 IWST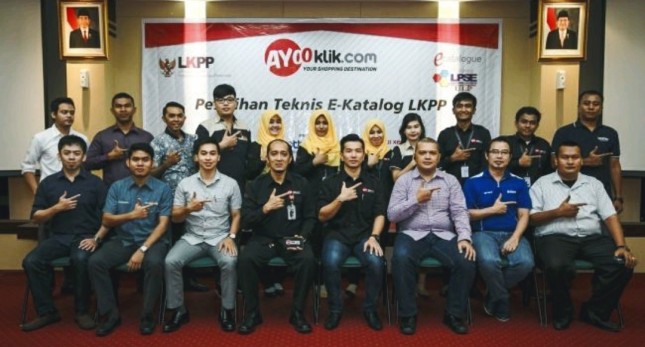 PT Airmas Perkuat Jaringan Bisnis E-commerce (dok INDUSTRY.co.id)
INDUSTRY.co.id - Jakarta, PT Air Mas Perkasa strengthens the startup and e-commerce ranks nationwide by launching two new online channels, Ayooblanja.com and Ayooklik.com.
"The launching of a new soft launching ayooklik where new ayooklik made newer concepts and integrated stock while ayoobelanja is a portal of SME marketplace in helping SMEs through training so they can sell online," said Air Agency CEO Basuki Surodjo.
It is explained, since its inception in 2008 PT. Air Mas Perkasa is a provider company for government agencies. And presenceAyooklik.com is the only e-catalog provider of online shop experienced in the provision of government goods and services.
January 1, 2016, Ayooklik.com officially participates in supporting government procurement policies through e-catalogs offering government procurement solutions. Some product categories include: Computer, Software, Studio Tools, Communication Tools, Office Equipment and Computer Supplies. The scope of territory can be served Ayooklik.com, the entire territory of Indonesia.
Previously, continued Basuki, the provision of government goods and services through a tender process that takes longer.
Therefore, to improve efficiency and transparency in the procurement process of government goods and services, an e-catalog system is now adopted.
"This system can cut the time and cost of government spending because the price listed is the best price and has been verified by LKPP team," he explained.
However, he added, with the presence of e-Catalog, the ordering and delivery process can be done much faster, approximately five to seven days just depending on the destination.
"And we are grateful that in 2018, ayooklik.com is trusted to join LKPP to socialize LKPP e-Catalog," he continued.
Roadshows in some areas are also to introduce Ayooklik.com as well as to socialize to e-catalog users throughout Indonesia.
The event was attended usually attended by local government agencies / municipalities.
Added, all products that supply Ayooklik.com are goods that directly in the message of the authorized principals in Indonesia, among other world-class big brands that support such as HP, Brother, Panasonic, Epson, Canon, Microsoft, Cisco , Fujitsu, Lenovo, Dell, Asus, Samsung, Fujixerox, Acer.
Ayooklik.com, an online store that stands and grows under the auspices of PT. Air Mas Perkasa.
With the motto "Most Online Shop Indonesia", presents an online store that provides a friendly, fast, and professional.
Ayooklik.com is an online shop that works on several target markets, including retail (B to C Business to Consumer), Corporate (B to B - Business to Business), and also Government (B to G - Business to Government).
Ayooklik.com also has a service to check the status of the purchase, just by entering the purchase code, the customer can easily to monitor the position of the goods in the order.
Ayooklik.com supported by several teams with experts who are quite reliable among them: Team Web Developer: This team is in charge of designing and updatingAyooklik.com, so customers can easily find products, make transactions with products that are always up to date.
Also Team Design: This team is in charge of designing product display images so that customers can easily find out the model and shape of the product they want to buy.
In fact, Team Online Sales: This team served to serve customers with friendly and have knowledge of good products, so that customers can get detailed explanation of the product to be purchased clearly and precisely.