Wardah Fashion Talkshow, Young Designer Education Stage at Indonesia Fashion Week 2018
By : Dina Astria And Aldi Firhand | Sunday, April 01 2018 - 20:52 IWST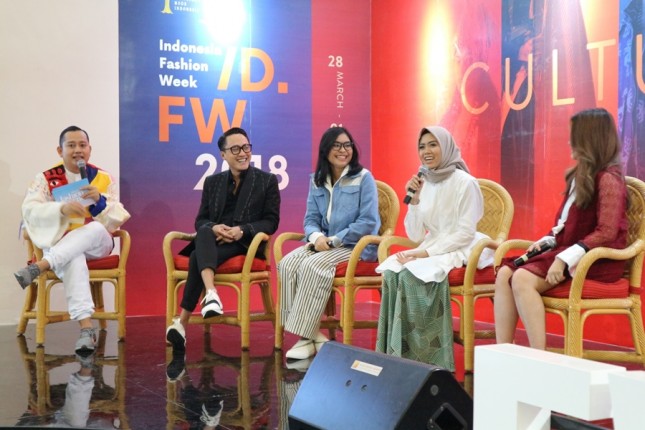 Barli Asmara and three winners of Wardah Fashion Award 2017 in Wardah Fashion Talkshow at Indonesia Fashion Week 2018. (Doc Industry.co.id)
INDUSTRY.co.id - Jakarta - Wardah's consistency in supporting the development of the fashion industry not only focus on designers who have been successful in pioneering and building fashion labels only. As part of Wardah Fashion Journey, Wardah held Wardah Fashion Talkshow with the theme "How To Build Your Own Fashion Brand" held at Mini Stage, Indonesia Fashion Week 2018 on Friday (30/3/2018) yesterday.
At Wardah Fashion Talkshow, Wardah presented 3 winners from Wardah Fashion Award (WFA) namely Elsa, Magfirah Maulani and Juliane Lieyanto, where WFA is the best talent singer event of young Indonesian fashion designer that has been started since 2016.
This program is Wardah's initiative in providing educational facilities to young designers. Not only organizing the competition, WFA also provides briefing to the finalists in developing themselves in the process of creating a work of fashion. Various trainings are also given, ranging from preparing collections, business planning, branding strategy, stage fashion shows, inspiring trips, to preparing them into fashionpreneur.
"I am very excited to be selected as the first winner of the WFA 2017 program. Here I have many valuable experiences such as daring to present the work I made and demonstrate in the prestigious fashion. Moreover, the journey of inspiration and learning to know the international fashion stage to South Korea with Wardah yesterday made me apply a lot of knowledge that I can in judging Wardah Fashion Award ", said Elsa, the first winner of WFA 2017.
Wardah Fashion Talkshow "How To Build Your Own Fashion Brand" also presents Barli Asmara as a fashion designer of Indonesian pride as well as a judge and mentor at WFA 2017. The emphasis on this talk show is how Wardah as a cosmetics brand is committed to contributing to the development and regeneration designer. Preparing young designers to jump into the fashion business through a development vessel that is WFA.
Barli Asmara revealed, "I am very happy to always be involved in various programs held by Wardah and become part of various inspirational activities. One example is where today we are doing fashion talkshows for the younger generation who will work as fashion designers, I was given the opportunity to provide additional knowledge related to how to start and build a business in the fashion industry. So they are motivated to realize that dream ".
Wardah hopes through this inspirational activity can foster the confidence of young designers to start the step and ready to become a superior fashionpreneur. Contribute to advance the local fashion industry.