Movement Let's Eat Fish Forms Generation Indonesia Healthy and Smart
By : Hariyanto And Aldo Bella Putra | Wednesday, April 04 2018 - 15:30 IWST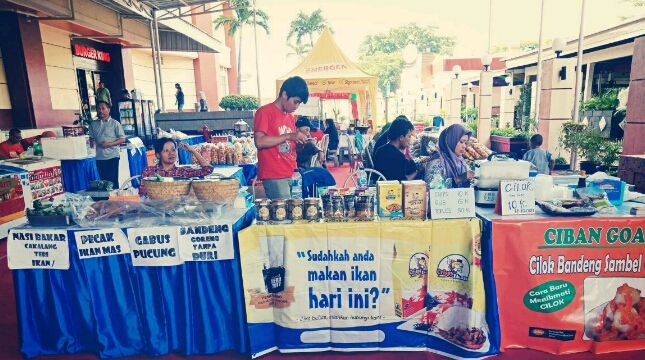 Gerakan ayo makan ikan
INDUSTRY.co.id - Jakarta - Food is the most basic human need. One source of food is a fish that is rich in protein, fat and vitamins, so it is very good for the fulfillment of nutrition and development of intelligence.
With our vast sea and water areas, it certainly contains abundant fish that can be a source of food.
Fish consumption in Indonesia is increasing every year, but the increase is still far from ideal. Indonesian fish consumption is currently only 47 kg per capita per year (2017), the lowest in ASEAN countries.
Especially compared with the Japanese state that fish consumption reached 100 kg per capita per year, so it needs to continue to be encouraged public awareness to consume fish.
Referring to these benefits and in order to realize food sovereignty, it is necessary to continue the movement to arouse public awareness on a continuous basis to consume fish and processed. Smart and healthy generation is the dream of every Indonesian family.
Therefore, IKAL 49 and KAHGAMA 88 Association - UGM Family Law Alumni Association of 88 and supported by Perum Perikanan Indonesia and GMT Property 15, are invited to participate in creating a healthy and smart generation through 'Ayo Makan Ikan' movement, in the form of Bazaar, which is held in some places, starting from Cijantung Mall, March 30, 2018 - April 1, 2018 and continued its implementation in Kendal Cafeteria, Jl Kendal No. 1 Menteng, on 24-25 Apri 201.
There are various kinds of fish dishes with typical recipes Nusantara and derivatives combined with various series of activities such as cooking competitions, Live Music and coloring contest with the theme of the marine environment and fish.
Boedhi Setiadjid, Chairman of IKAL 49 as an alumnus of PPRA 49, as well as the initiator stated that this activity is one of the efforts in supporting fishermen and farmers and traders to increase their income and welfare.
"This is in line with the national committees in supporting government programs to realize food sovereignty," said Boedhi.
The same thing was also conveyed by Risyanto Suanda, as the President Director of Perum Perikanan Indonesia, "A very interesting and useful activity and we strongly support the participation of this kind of society".
Ade Rianti, as the Chairman of the Executive Committee, expressed his appreciation and gratitude for the participation and support given by the management and management of Cijantung Mall, GMT Property Management, Yoofix and Wihrasa Group and other parties cannot be mentioned one by one, so that this activity can be successfully held.
With the consumption of fish, in addition to meet the nutrients and nutrients, on a national scale can encourage the fulfillment of food so that can be realized food sovereignty and not dependent on imported products.
The realization of people who love Indonesian products is our desire together, especially in increasing the consumption of fish, joins to enjoy a healthy and tasteful dish of fish with typical recipes Nusantara AYO MAKAN IKAN, to the Generation of healthy and intelligent Indonesia.