Social Minister: PKH Supervisor Officers Should Be Able to Unite Social Recipients
By : Herry Barus And Aldo Bella Putra | Tuesday, April 10 2018 - 14:30 IWST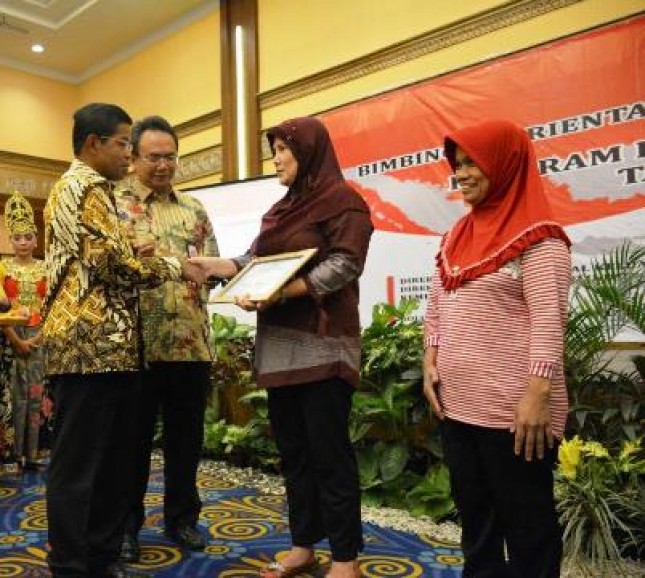 Mensos Idrus Marham dan Dirjen Perlindungan dan Jaminan Sosial Harry Hikmat (Foto Dok industry.co.id)
INDUSTRY.co.id - Jakarta - Social Minister said Social Worker (Peksos) Supervisor of Family Hope Program (PKH) to be able to establish Mandate Beneficiary Family (KPM) so that they can be independent.
"I have just taken part in the Plenary Cabinet Meeting, one of which is discussed and the focus of the President is to ensure PKH can function to encourage independence and reduce the gap," he said to the media crew before opening the guidance and orientation program of PKH Supervisor 2018 in Jakarta on Tuesday / 4/2018).
Minister of Social Affairs said the poverty reduction is of great concern to President Joko Widodo. Moreover, he continued, the number of PKH recipients continues to increase from 2017 to 6 million KPM to 10 million KPM by 2018.
The amount, he added, is very significant, so the Ministry of Social do work fast and accelerate prepare Human Resource Implementing PKH qualified to escort the success and effectiveness of PKH. Currently there are a total of 40 thousand Human Resources PKH implementers who are ready to be deployed to the field. A total of 421 of who are Peksos Supervisor.
For information, Peksos Supervisor is a professional in the field of social work. They have an educational background as Social Worker organized by various universities in the field of social welfare science or social work field. For example, the Ministry of Social Affairs has a Social Welfare School (STKS) which annually grants 300--400 Peksos.
"With this Peksos Supervisor I hope they can push KPM PKH more functional and productive," he said.
Meanwhile, on the sidelines of the Social Minister meeting with 421 Peksos Supervisor, Social Minister gave awards to three KPMs from Central Jakarta who have Graduated or erased from poverty.
They are Siti Aminah (Sawah Besar), Poniah (Tanah Tinggi), and Nurhasanah (Gunung Sahari Utara) who become PKH participants starting in 2014. They use PKH funds for children's education and increase their business capital.
"Their success out of poverty cannot be separated from the participation of PKH Assistants, so I ask for in the field Peksos Supervisor can work together with PKH Assistant well so that the maximum in guiding KPM to independence," said Social Minister.
The Role of Peksos Supervisor
Meanwhile, Director General of Social Protection and Social Security of the Ministry of Social Affairs, Harry Hikmat, said this year a total of 421 PKK Supervision Officers have been recruited and deployed in various districts / cities.
They are expected to guard PKH effectiveness as a backbone of PKH as a national priority program to succeed in reducing poverty.
Harry says Peksos Supervisor has four roles. First, ensure that the Family Development System (FDS) Meeting process can take place successfully. The success indicator of P2K2 is a change of attitude and behavior of KPM PKH which will lead to independence.
Second, Case Management. It is a procedure to coordinate all parties, services and or professions in assisting KPM. For example, if there is violence against children within the family, Peksos must provide assistance and approach, in cooperation with related parties such as local residents, police officers, or Komnas Anak.
Third, Complaint Handling. For example, there is a delay in disbursement of bansos due to technical problems; a Peksos Supervisor should help provide socialization to the community that assistance will be dirapel in next disbursement.
Place, Media Information and Promotion. Namely collect and tell PKM KPM success stories to the public through writing, video KPM testimonials, as well as photographs that can be delivered through social media and mass media. The central theme is how the success stories of KPM PKH successfully tergraduasi, KPM children who excel, and the life story of KPM that changed after obtaining PKH. The goal is to inspire fellow KPM to change its fate from mismin to no longer poor.
"So PKH is not just for bansos but there is a process that leads to a change of attitude and behavior. The task of the Supervisor is to encourage increased productivity of beneficiaries, simultaneously responsible for ensuring access to bansos programs, to be creative and productive, to improve the level of their welfare, "Harry explained enthusiasm.
Family Hope Program (PKH) is a conditional social assistance program to families and / or poor and vulnerable people enrolled in an integrated data of poorer treatment programs. The data is processed by the Center for Social Welfare Data and Information and designated as beneficiary family of PKH.
PKH Tunnels are improving the lives of beneficiary families through access to education, health and social welfare services; reducing the burden of spending and increasing the income of poor and vulnerable families; create behavioral change and independence of beneficiary families in accessing health and education services and social welfare; reduce poverty and gaps, introduce the benefits of formal financial products and services to KPM.
At the end of his guidance to the PKH Career Supervisor, Social Minister invited them to support the government of President Joko Widodo to welfare the people. By shoulder-shoulder reduce the percentage of poverty from two digits into one digit that is from 10,12 percent to 9 percent.