Expands Retail Customer Reaches, Bank KEB Hana Provides Discounts Up To Rp 2 Million For Customers TOUS LES JOURS
By : Hariyanto And Aldo Bella Putra | Wednesday, April 11 2018 - 18:30 IWST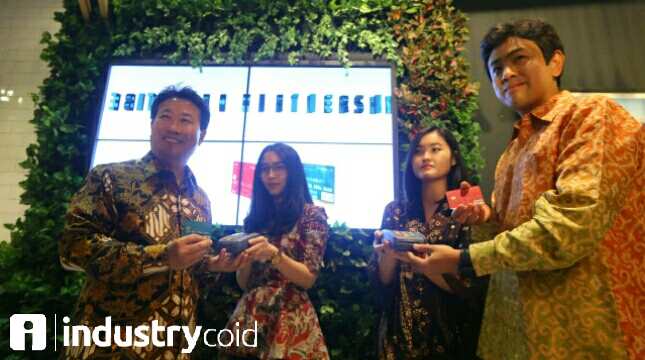 KEB Hana Beri Diskon bagi Pelanggan TOUS les JOURS
INDUSTRY.co.id - Jakarta - PT Bank KEB Hana continues to strengthen and expand its retail customer segment in Indonesia. One of the strategic steps undertaken by Bank KEB Hana is to cooperate with premium retail chain outlets, TOUS les JOURS.
Through this partnership, Bank KEB Hana will provide a cashback program of 20% to every bank customer who purchases products from all TOUs JOURS outlets in Indonesia. This program is valid from 26 March to 31 December 2018.
The signing of the cooperation was conducted by Kana Hana CEO Lee Hwa Soo and TOUS les JOURS Director Jeong Soo Won, at DCafe Hana Lounge Wisma Mulia, Jakarta, Tuesday (10/4/2018).
Kana Hana CEO Hwa Soo Soo said cooperation with strategic retail partners such as TOUS les JOURS is an effort to improve banking access in various economic activities in Indonesia.
The steps taken by banks in pursuit of opportunities in the retail market is also expected to further expand the customer base of Bank KEB Hana in Indonesia.
"This cooperation is very important for Bank KEB Hana to reach the segment of customers in the fast growing food industry in Indonesia We hope this cooperation can improve the performance of both parties," said Lee Hwa Soo.
Lee Hwa Soo explains, technology in the field of finance experienced a rapid development in meeting the need for an increasingly large and diverse financial solution.
To that end, Bank KEB Hana continues to perform financial solutions in the form of non-cash payments that can facilitate consumers in supporting their lifestyle and daily activities.
This cooperation is in line with the Government's step in raising public awareness to conduct non-cash transactions. According to data from Bank Indonesia, people who make non-cash retail transactions have reached 58% in 2016.
It is expected that the growth of non-cash transaction implementation in Indonesia towards cashless society can pursue penetration of non-cash use in neighboring countries such as Singapore, Malaysia and Thailand which has more than 80%.
Consumer Product Management Division Head of Bank KEB Hana Gempur Widansyah said the program is also in line with the development trend of middle class society in Indonesia who wants easiness in doing transaction.
He explained that the 20% Cashback program can be given a maximum of Rp 200 thousand per day or Rp 2 million per month for each customer. "This program is valid if the customer conducts transactions in TOUS les JOURS with minimum purchase of food and drinks amounting to Rp 50.000," said Gempur.
According to Gempur, Cashback program will be credited in the next business day after the transaction is done in all TOUS JOURS outlets. Customers will also get Cashback credit time information through Direct SMS Blast on the same day when customers make a purchase on TOUS les JOURS
"We provide convenience to all customers of Bank KEB Hana who want to transact at Tous les Jours outlets.This cooperation applies to KEB Hana IDR Debit Card and KEB Hana Priority Banking Debit Card," said Gempur.
TOUS LE JOURS President Director Jeong Soo Won said that the cooperation with Bank KEB Hana becomes a strategic step for the company in increasing the interest of customers to shop more efficiently by using the facilities of Bank KEB Hana.
According to him, Cashback 20% program from Bank KEB Hana can be enjoyed in 55 outlets of TOUS les JOURS throughout Indonesia spread in Jabodetabek, Bandung, Surabaya, and Bali.
"This cooperation is a good opportunity for us as a bread shop targeting middle-class and millennial people in Indonesia We hope that cooperation with Bank KEB Hana can continue to be established and can excite retail business and also encourage economic growth in Indonesia" close Jeong Soo Won.