Minister Rini Supports PLN's Steps with the Attorney to Accelerate Infrastructure Development
By : Herry Barus And Aldo Bella Putra | Thursday, April 12 2018 - 17:30 IWST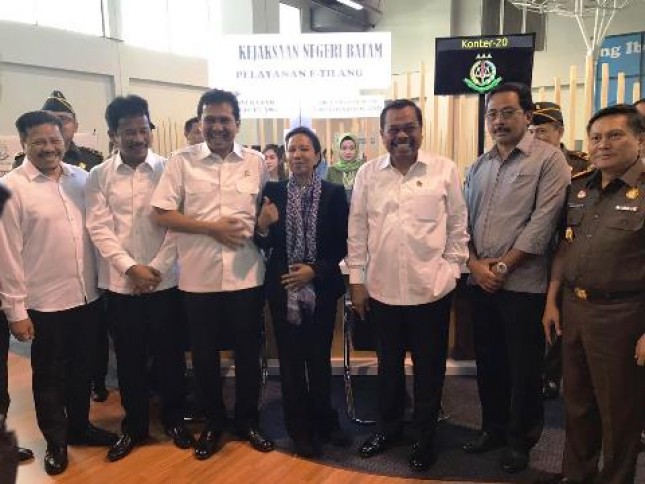 Menteri BUMN Rini Soemarno bersama Menteri PANRB Asman Abnur dan Jaksa Agung Prasetyo (Foto Dok Industry.co.id)
INDUSTRY.co.id - Jakarta - State-Owned Enterprise Minister Rini Soemarno supports PT PLN (Persero) step in cooperation with the Attorney General's Office to accelerate the completion of the construction of electricity infrastructure in the country.
"PLN needs the support of many parties to complete the development of electricity, one of them is good cooperation with the Attorney General so that this great work can be completed on target, on time, and not against the law," Rini said in a press release here Thursday / 4/2018).
The signing of the agreement on the Handling of Civil Law Affairs and State Administration between PLN and Civil and State Administration of the Attorney General is conducted in Nusa Dua, Bali (13/4), between PLN Managing Director Sofyan Basir and Jamdatun Attorney General, Loeke Larasati A, which was witnessed by Minister of SOE Rini Soemarno along with the Attorney General of the Republic of Indonesia HM Prasetyo.
Tasks of PLN in the field of electricity infrastructure development including the very heavy because PLN must build a power plant with a total capacity of 35 thousand megawatts (MW), transmission network along the 46 thousand km and many substations.
He said, as a comparison of power plants operating since Indonesia's independence until 2014 about 46 thousand MW. Now for 5 years PLN is assigned to build 35 thousand, a huge responsibility.
Through this partnership, the directors and management of PLN throughout Indonesia can be more confident in carrying out their duties as each step gets support so that its steps follow the correct legal level.
Meanwhile, PLN President Director Sofyan Basir told media crews that this cooperation is a form of transparency and prudence by PLN in building electricity infrastructure. The support from the AGO over the previous three years to PLN has been very successful, especially in land acquisition, contracted from Sabang to Merauke and also related to legality and accountability issues.
"We are grateful to the AGO who is very supportive and guarding well the 35 thousand MW program that we are currently working on," he said.
He added, to provide electricity for all people of Indonesia PLN gets the assignment from the government to build a power plant. Starting from Fast Track Program-1 (FTP-1), Fast Track Program-2 (FTP-) and 35 thousand Megawatt (MW) program to meet national electricity growth.
"In carrying out the task, PLN needs the support of the Public Prosecutor's Office, especially the Civil and State Administration Division, as the State Attorney General (JPN) helps provide legal opinion and legal assistance in the form of handling legal problems or legal assistance to PLN," explained Sofyan.
He believes that the legal opinion of Jamdatun can be a reference and support for a decision or policy taken by the management of PLN.
On that occasion, Attorney General HM Prasetyo said PLN's role has a great responsibility as a manager and provider of electrical power, to support all sectors of business life, household and economy, where it is solely aimed at improving the quality of life of the community as a whole.
"This is a form of awareness and responsibility of the Public Prosecution Service, both constitutionally and institutionally, to play an active and maximum role so that corporate entities will not be exposed to legal issues in carrying out their business activities, as long as each corporate action is in line with the business judgment rule principle," Prasetyo said.