Kader Golkar DIY Push Jokowi to Cooperate with Gatot Nurmantyo in Pilpres 2019
By : Herry Barus And Aldo Bella Putra | Saturday, April 14 2018 - 17:00 IWST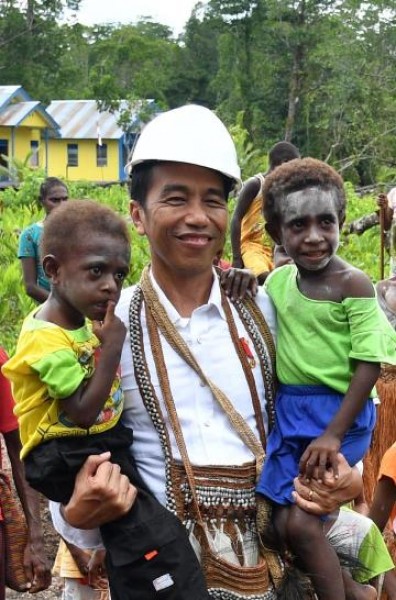 Presiden Jokowi di Asmat Papua (Industry.co.id)
INDUSTRY.co.id - Yogyakarta - Golkar Party cadres of Yogyakarta Special Region encouraged President Joko Widodo to hold General (Pur) Gatot Nurmantyo as a vice presidential candidate in the 2019 presidential election.
"We ask Mr. Jokowi to consider Mr. Gatot is the right person to accompany him in the next Presidential Election," said Golkar Party cadres who are also Vice Chairman of the Election Victory of Golkar Party DPD DIY John Serang Keban in Yogyakarta on Friday (13/4/2018).
According to Keban, the Golkar Party cadre of DIY assessed that the figure of Billy was right to be Jokowi's companion because in addition to being seen as a nationalist figure, the former TNI Commander could also become a balancing figure accepted by majority circles.
"The TNI people are saptamargais so that the question of his nationality is no doubt, besides that Pak Gatot is the base of Muhammadiyah and accepted by all the people," he said.
Although centrally the Golkar Party DPP has the attitude of surrendering the decision of the vice presidential election fully to Jokowi, but according to him, the Golkar DIY cadres will still communicate that aspiration. "We have communicated this to the Chairman (DPP Gokar Party) in private," he said.
According to him, the 2019 presidential election is not just a venue for presidential and vice presidential elections, but also the momentum to select two leaders who can unite all elements of the nation.
He considered the main issue that could potentially appear in the upcoming presidential election is the disintegration of the nation due to identity politics that tend to strengthen.
"Thus, Mr. Gatot can be the right companion for Pak Jokowi to knit back the unity of the elements of the nation's children who have already split open due to execution of elections DKI ago," said Keban.
Indonesia, he said, has a strategic position as a center of growth of global civilization and the new world economy. So that political stability, defense and global security is the responsibility of Indonesia with countries in the Asia-Pacific region.
Considering the complexity of the problems facing Indonesia today and the future global challenges in the fields of economy, politics, defense and security, the DIY Golkar Cadre considers Indonesia to need a strong and complementary national leadership figure.
According to Keban, raising the figure of the vice president candidate from the political party cadres (political parties) to date has not been able to answer the needs of the nation. "We believe whoever rivalnya later, elektabilitas duet Jokowi-Gatot is definitely superior," said Keban. (Ant)