EBT-Based Electricity Supply, 4 Bio-Based Power Generators Ready to Operate
By : Hariyanto And Aldo Bella Putra | Thursday, April 19 2018 - 15:00 IWST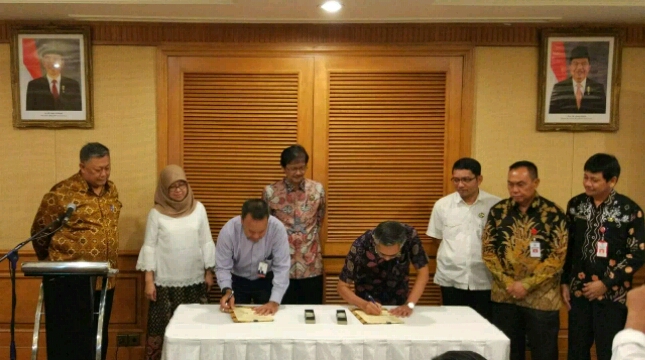 Penandatangan KSO PLT Bioenergi antara Dirjen EBTKE dengan PLN
INDUSTRY.co.id - Jakarta - Provision of renewable energy energy-based renewable energy continues to be encouraged by the Government through the Directorate General of Renewable Energy and Energy Conservation (EBTKE).
This is in line with the addition of four bioenergy-based power plants that are ready to operate, namely PLT Biogas Tanah Laut South Kalimantan, PLT Biogas Lamandau Central Kalimantan, PLT Biogas Paser East Kalimantan, and PLT Biomass Bodohula West Sumba East Nusa Tenggara.
Director General of New Energy, Renewable Energy and Conservation (EBTKE) Rida Mulayana revealed that the operation of the power plant is an optimization of state assets to be granted to Local Government.
"We are optimizing the assets based on the State Budget (APBN) .This is the key because this is people's money so the goal for the people as well," said Director General of New Energy, Renewable and Energy Conservation Rida Mulyana at the signing of Cooperation Cooperation (KSO ) Bioenergy PLT between Directorate General of EBTKE and PT Perusahaan Listrik Negara (PLN) in Jakarta, Thursday (18/4/2018).
Rida added that the presence of bioenergy-based PLT is expected to increase community access to energy that will encourage the improvement of quality of life and economy through small industries or households.
In addition, it contributes to reducing global warming and climate change, while meeting national energy needs and supporting the achievement of renewable energy mix targets as mandated by Government Regulation No. 79 of 2014.
After the signing of the KSO, joint inspection will be conducted to detect the initial conditions as a reference for the operation and utilization of the bioenergy-based power plant.
Even Director of Bioenergy Andriah Feby Misnah revealed that there will be 2 (two) other Bioenergy PLT with KSO scheme between Ditjen EBTKE and PT PLN, namely PLT Biogas Merangin, Jambi and PLT based on Biofuels in Belitung. "Currently the two power plants are still in the process of commissioning," explained Andriah.
For information, during the period of 2013 - 2016, DG EBTKE has built 10 units of bioenergy-based power plants, of which 8 units of power plants are handed over to local government through BUMD, and 2 units to state-owned enterprises through government participation mechanism. The ten units of bioenergy-based power plant consist of 1 unit of PLTSa, 1 unit of PLTBN, 1 unit of PLTBm, and 7 units of PLTBg.
At the end of the event, the operation of bioenergy power plants provides benefits to corporations, such as decreasing Cost of Supply (BPP). "This we count can lower BPP for West Sumba Rp2.600," said East Java Regional Business Director, Bali and Nusa Tenggara Djoko Raharjo Abumanan.