Gathered together, Kang Hasan Listen to Cirebon Fisherman Complaints
By : Herry Barus And Aldo Bella Putra | Saturday, April 21 2018 - 15:30 IWST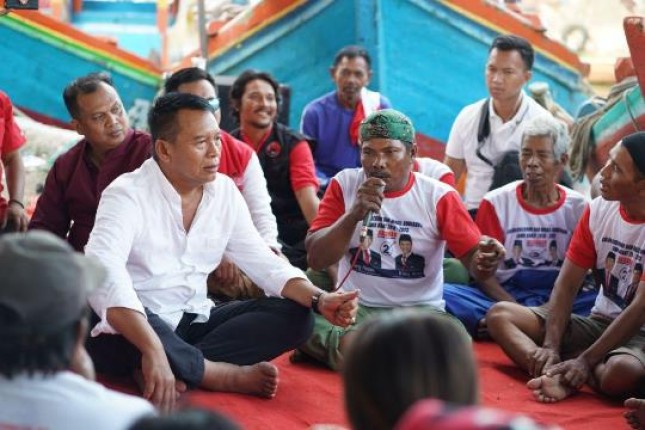 Cagub Jabar Kang Hasan (Foto Dok Industry.co.id)
INDUSTRY.co.id - Cirebon - Fishermen have an important function as the backbone of the national fishery industry, which requires optimal attention from the government. One of them related to the life of fishermen who are still far from prosperous.
To realize the welfare of fishermen, West Java Governor Candidate number 2 TB Hasanuddin or familiarly called Kang Hasan, met directly with the fishermen to listen to every complaint of the fishermen, as well as finding the right solution of the problems encountered.
While lesehan together, Kang Hasan dicurhati fishermen of Cirebon Regency, related to fishing permit issues, to the facilities and infrastructure needed for the fishermen to go to sea. In response, Kang Hasan convey his ability to meet the needs of fishermen, and realize the prosperity of fishermen in West Java, especially the regency of Cirebon, through the program Seabeb Jabar which he will roll when being elected governor.
"The leader is assigned to serve the people, and what should be done for the people's rights, and this fisherman should be facilitated by the country what his needs," he said during a dialogue with the fishermen, in TPI Mundu, Bandengan Village, Mundu District, Cirebon , Friday (20/4/2018).
Through Jabar Sebeuh, continued Kang Hasan, the fishermen will also be given subsidies and lightening in possession of fishing gear. Thus, the work of fishermen is not hampered due to the absence of the cost to buy the necessary advice and infrastructure. In addition, in accordance with the program Nawacita President Joko Widodo, Kang Hasan, will also provide insurance to the fishermen, if something happens that is not desired when going to sea. Meanwhile, to keep the price stability it will make _cold storage_ on some TPI in West Java.
"Insurance is not a substitute for life, because life is not counted, but at least, if you lose family, there is Tombo ati," he said.
Meanwhile, Fisherman Coordinator, Saiman said the program delivered by Kang Hasan, is the fisherman's need and the solution desired by the fishermen in Cirebon. Kang Hasan figure, he continued, as a populist and caring for the underworld such as fishermen. So the fishermen easily convey every aspiration and problems faced.
"With Kang Hasan here we are ready to support and meet directly with our future leaders, so we are good fishermen to ask for anything," he said greeted the boisterous fishermen.
Saiman hopes, every program can be realized Kang Hasan, and able to prosper the people of West Java, especially the bottom like fishermen.
"To Kang Hasan, we will vigorously support Hasanah indeed in West Java, and please when people complain, stay welcomed well like this," he concluded.
In addition to Jabar Seubeuh, Kang Hasan also delivered 7 other excellent programs that will be rolled out with his partner Anton Charliyan (Kang Anton). Among Bogagawe, Jabar Cageur, Imah Rempeg, Sakolagratis, Turkamling and Culture and Molototcom.