Education Program BAZNAS Empowers 24,000 Mustahik
By : Nina Karlita And Aldo Bella Putra | Monday, April 23 2018 - 15:00 IWST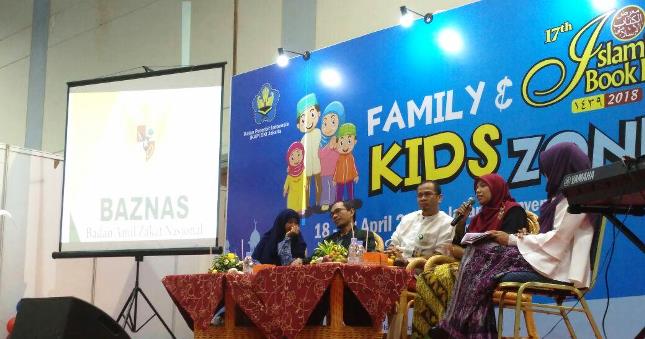 Program Pendidikan BAZNAS Berdayakan 24.000 Mustahik
INDUSTRY.co.id - Jakarta - Badan Amil Zakat Nasional (BAZNAS) optimizes the role in the field of education for poverty alleviation.
"BAZNAS optimizes its contribution to educational development and in 2017 we channeled Rp 18,723,153,000 to empower 21,181 direct beneficiaries and 3,051 indirect beneficiaries," said the Director of BAZNAS Distribution Mohd. Nasir Tajang in a talk show themed "Zakat for the Development of Education of Indonesia" at Islamic Book Fair (IBF), Jakarta Convention Center, Jakarta, Sunday (4/22/2018).
Also present as a resource person, author of educational books Syahruddin El Fikri; founder of "IPB Mengajar 2.0", Siti Zulaedah; educational activist, Sri Nurhidayah; and moderator of the Head of BAZNAS Retail Collection, Hafiza Elvira.
Nasir explained that BAZNAS educational programs consist of the school model of SMP Cendekia BAZNAS that every year receives dozens of poor students, tahfidz schools, scholarships and educational tuition through BAZNAS Scholarship Institute (LBB).
Then, he continued, teacher training and kafalah assistance, school infrastructure support; educational support programs for outlying, outermost and underdeveloped areas (3T); literacy program and BAZNAS Scholarship Alumni Association.
"BAZNAS has two program institutions, the School of Scholarship BAZNAS which was established in 2016 and the Institute of Scholarship BAZNAS (LBB) formed 2018," said Nasir.
He explained, BAZNAS focus on education is to improve the quality of education through pilot schools, improving the capacity of educators and the quality of educational infrastructure facilities.
In addition, it also increases school enrollment rates through scholarships and helps to increase the capacity of mustahic skills.
The same thing was conveyed by Head of Scholarship Institute of BAZNAS (LBB), Sri Nurhidayah.
"Previously BAZNAS once had a One Family One Scholarship (SKSS) scholarship program with 115 beneficiaries and Kadir Kadir (KSU) program of 248 people," he said.
Sri mentioned that BAZNAS Scholars School is a free boarding school for orphans and the poor with direct beneficiaries of 98 people and indirect beneficiaries of 1,078 people.
In the same place, renowned writer Syahruddin El Fikri, praised the BAZNAS education program.
The author of "Scratching Ink for Education Indonesia" says BAZNAS has contributed a lot to the world of education, including encouraging students to be authors.
"Writing becomes part of the struggle in helping education be impossible," he said.
Syahruddin also shared his experience in collaboration with BAZNAS during his visit to Tello Island, Nias District, North Sumatra Province.
"In March 2017, together with BAZNAS volunteers, I had the opportunity to go directly to Tello Island.We went to Madrasah Aliyah (MA) Bahrul Ulum to be a resource person of 'Teacher Writing Training: Social Media Optimization'.ZZNAS contributed to developing education in this area," he said.
Syahruddin added, MA Bahrul Ulum is the only madrasah in Batu-Batu Islands, Pulau Tello.
He poured the story of the education struggle of the dhuafa community on Tello Island in three articles published in one of the national mass media.
Syahruddin's work is also a complement to the fundraising material of zakat, infaq and alms (ZIS) BAZNAS, in collaboration with Kitabisa.com. Activity _fundraising_ is successfully receives Rp 100 million of ZIS funds from the community.
BAZNAS also donated Rp 127 million for the construction of facilities, teacher training and other assistance through Kitabisa.com more than Rp 75 million.
"The activity is done by measuring Social Return On Investment (SROI) with projected ratio on BAZNAS assistance for MA Bahrul Ulum of 2.08.This means that each one rupiah invested yields 2.08 rupiah benefit, indicating that the aid program is feasible So the decision of BAZNAS to run this activity is appropriate," said Syahruddin.
In the next few years, he predicts, the value of the program's ratio will also increase. Measurements were also presented at a scientific forum in Colombo, Sri Lanka.
Meanwhile, the founder of IPB Mengajar 2.0, Siti Zulaedah, expressed his gratitude to BAZNAS.
In 2017, he attended BAZNAS-Republika Literacy Awards competition with the topic "IPB Mengajar 2.0". Siti also successfully become the third champion.
"The winning fund follows the competition, I use for the development of mini libraries and educational support for poor children, which encourages me to be more active in fighting for the education of children and mothers of the poor in the village," he said.
Thanks to the assistance of BAZNAS, he said, IPB Mengajar 2.0 can help culinary training in the IPB cooking laboratory with professional chefs. "We can also provide childcare training," he said at a talk show that enlivened the appearance of Saman Dance, musical marawis and arumba by students BAZNAS Cendekia School