Expansion, Kisel Cooperative Develops Transport and Fintech Sectors
By : Ahmad Fadli Dan Aldi Firhand | Monday, April 23 2018 - 23:30 IWST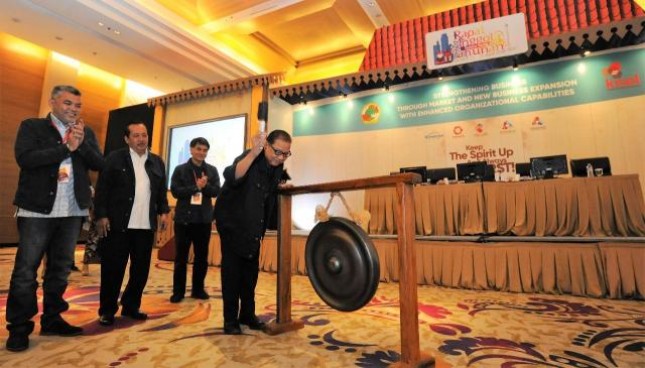 Menteri Koperasi dan UKM Puspayoga membuka Rapat Anggota Tahunan Koperasi Telekomunikasi Seluler (Kisel) tahun buku 2017, di Jakarta Senin (23/4/2018)
INDUSTRY.co.id - Jakarta - Chairman of the Supervisory Board of Koperasi Telekomunikasi Seluler (KISEL) Hasbi Hasibuan said his cooperative has a vision of becoming the best cooperative in Indonesia. Although in terms of assets have not become number one, but KISEL seeks to achieve the best from the other side such as business performance or GCG.
"Therefore KISEL is trying to find a business opportunity that we can work on, because KISEL has the capital for it." KISEL network has spread from Aceh to Papua, so KISEL plunge into one business, it can be said that it has a national scale," he said in his press conference, Monday, (4/23/2018).
According to Hasbi, the presence of Minister Puspayoga in RAT KISEL becomes a whip for KISEL to improve its performance.
According to Hasbi, various progress and achievement of KISEL is also not separated from the role and guidance from Kemenkop and UKM.
"Therefore we would like to express our gratitude for the guidance of the Minister of Puspayoga for the time being, as well as to Kemenkop and UKM.We advise Pak Menkop and UKM Puspayoga, we will make valuable input for KISEL in the future that clearly we continue to expand business in addition to maintaining and even enlarging existing business right now," Hasbi said.
Chairman of KISEL Board Tubagus Daniel Azhari said that KISEL currently has five subsidiaries, PT Kinarya Alihdaya Mandiri (engaged in outsourcing business management, PT Kinarya Selaras Travel, PT Kinarya Selaras Piranti (business buildong management), PT Kinarya Selaras Solusi (digital business advertising and solution), and PT Kinarya Mandiri Konstruksi (especially telecommunication tower development).
"For business plan 2018, in addition to enlarge the telecommunications business, we will also expand our business in transportation and financial technology or Fintech," he added.