Anatomy of 72 Year Rupiah
By : Christianto Wibisono From Indonesia Business Data Center (PDBI) And A Leading Business Analyst Indon | Sunday, August 06 2017 - 21:45 IWST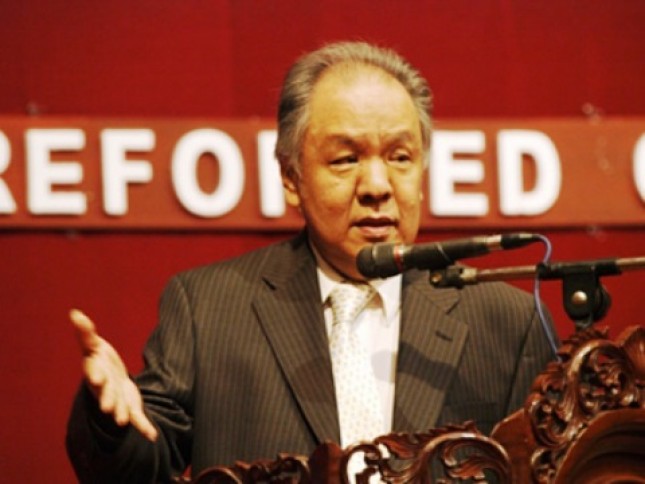 3666
INDUSTRY.co.id - Jakarta - I am amazed at President Jokowi's wise move to "stop" the pro and contra redemption polemics. Given the 11-year stages that must be passed then controversial it is not an urgent priority to be implemented now. Especially amid turbulence political crisis "Kudatuli 2.0" derivative controversy threshold pilpres 2019.
The 7th President of the Republic of Indonesia was born on June 21, 1961, meaning that it was only the age of 4 when Bung Karno conducted his third sanering on 13 December 1965 which would lead to the "crawling" of the first President by the second president with the Order of March 11, 1966 to overcome the political economy crisis following the coup G30S October 1, 1965 and economic downturn caused by sanering Rp. 1,000 old money replaced with Rp 1 new money. Minister of Finance Sumarno SH and Governor of Bank Indonesia Jusuf Muda Dalam together with Waperdam Chairul Saleh announced the policy from Cipanas Palace which will trigger a demo of Aksti Tritura Action January 10, 1966 to March 11, 1966.
Actually money Rp. 1,000 was also a second sanering RI on August 24, 1959 when the PM concurrently Finance Minister Djuanda and Minister of Finance Notohamiprojo remove 1 zero in currency image Elephant Rp. 1,000 and Tiger images Rp. 500 to Rp. 100 and Rp. 50 and forced borrowing of deposits> Rp. 25,000 replaced with 40-year bonds.

I have been a student of the University of Indonesia when the third sanering was done and just entered Loyola High School Semarang during the second sanering. Although still SD Xaverius B I still remember the first sanering called Scissors Syafruin. On March 10, 1950, Finance Minister Syafrudin Prawiranegara cut the Rp. 5 to half and the remainder converted into 40-year bonds.
Generations of my age may be few who are still aware and remember how within 15 years, President populist Bung Karno has failed to manage the economy impacted the decline in the Rupiah currency rate which in 1950s is still equivalent to 1 dollar Malaya / Singapore became the worst in Southeast Asia.
It should be noted that Indonesia is indeed the only ex-colonial state burdened by the debt of the 1949 Dutch East Indies colonial regime of US $ 1,130 million repaid in 1956 remaining US $ 171 million (15%) research DR Thee Kian Wie quoted van Zanden -Daan Marks in Book of Indonesian Economy 1800-2010 h 283). Also, all of Bung Karno's debt of US $ 2.4 billion is to build a naval fleet of aircraft and Air Force with the strongest MIG in the Southern hemisphere to liberate West Irian.
If John Kennedy were not killed, after reconciling the Dutch RI without war Irian (Papua) to RI and Bung Karno addressing the Year of Victory 17August 1962 perhaps Indonesia could succeed the National Plan of Planning 1961-1969 which is also supported by market-oriented tehnocrats amid ideology tide Socialism of the Old Order Manipol's ethicism.
Sujatmoko and Sarbini succeeded in whispering Bung Karno through Subandrio's proclamation declaration of the Economic Declaration of March 26, 1963. Unfortunately the confrontation with Malaysia consumed the nation's energy, although Bung Karno aims to create a common enemy for the TNI and PKI to unite under the banner of Great Leader of Bung Karno Revolution.
Sanering December 13, 1965 became a casus belli explosion of people power depose Bung Karno and orbit General Soeharto swung the economic pendulum to the right after the era of Manipol etatism. The world is at the height of the Cold War and Indonesia is taking an anti-communist path, the Regime's Repressive Developmentalist regime like Korea and Taiwan Soeharto have 32 years but the government is not deserted from 5 devaluations.
Because the iron law of economists the value of a currency can not be commanded by the dictatorship of the left proletariat and the right military junta regime. A country and its currency can be strong only if the country is able to produce and trade with its global partners and gain surpuls as its exports of goods and services surpass the imports of goods or services necessary for per capita income growth and increased welfare and appreciation of the value of its currency.
Our historical history is no matter the left or right regime of the political parties and partisan politicians "shari'ah" or "secular", nonpartisan tehnocrats all boils down to sanering. Syafrudin Prawiranegara from Masyumi, Djuanda and Notohamiprojo non partisan, although BI Governor 1959 Lukman Hakim resigned as protest was not involved in sanering the tiger's elephant was shot dead. Sumarno and Jusuf Muda In "Sukarnois". Bung Karno's left regime collapsed as the rupiah slumped.
Suharto had 5 devaluations, 3 times by Prof. Ali Wardhana 1970: 250-378; 1971 378 to 415; 1978 415 to 625, 2 times by Radius Prawiro 1983 702,59 ke970 and 1986 1,134 to 1,644 Minister of Finance Sumarlin is prohibited from devaluation because Suharto is shy on the back of a strong economic speech and there will be no devaluation but it turns out 5 x devaluation. So in 1991 there was a buzz of Sumarlin tight money politics double rate overnight rate rate.
When the Baht crisis broke out July 2, 1997 from Portland USA based on the inflation trend and the rupiah exchange rate, the Indonesian Business Data Center proposed to the Government to immediately "surrender" by directly devaluating the Rupiah from 2,250 to Rp. 5,000. Because if your currency is weak, even if Queen Elizabeth and Bank of England will not be able to maintain Pounds Sterling 1992. George Soros will be known as the maverick who beats the Bank of England.
History is mysterious because the IMF prescribes bank closures without realizing that there is no LPS such as FDIC in the US and Soeharto is late inviting Steve Hanke who proposes the rupiah is pegged with CBS at the exchange rate of Rp. 5,000 exactly like the proposed Indonesian Business Data Center but is 6 months late.
Even though President Clinton called President Soeharto from Air Force One, the economic downturn triggered by a false anti-devaluation prescription, insisting on the strong economic fundamentals of Indonesia and unpacking the rupiah in August 1997 all resulted in the People power and regime change of May 1998. The nadir lowest rate was actually January 1998 to Rp. 17,000 but certainly should not entertain ourselves that we are now USD 13,330 more "strong" than ground zero Suharto.
I write the history of this devaluation based on empirical historical Indonesia as a complement to advocates of redenomination who are busy studying global empirical but forget that the social trust factor of society must be taken into account not only econometric mathematics. Irrational Exuberance, social physiology of the people who 8 times cut, disanering, in devaluation is certainly not easily supplied Zimbabwe's empirical data.
Therefore furniture entrepreneurs from Solo are wiser than all politicians and technocrats both partisan and professional. President Jokowi is a history-conscious engineer, may not be good at writing essays but understand the history of people power psychology because it was born from the people power who are fed up with the politician establishment proved of all spectrum failed to strengthen the rupiah.
It can only be strong if it builds production and export capability for surplue for it builds infrastructure and lowers ICOR mobilization of all power Indonesia Inc cuts off the "middleman" source of high cost rent seeking bureaucracy and politicians.