LINE Engineers Aiming for the Future with DEV WEEK 2018
By : Dina Astria And Aldo Bella Putra | Friday, April 27 2018 - 16:00 IWST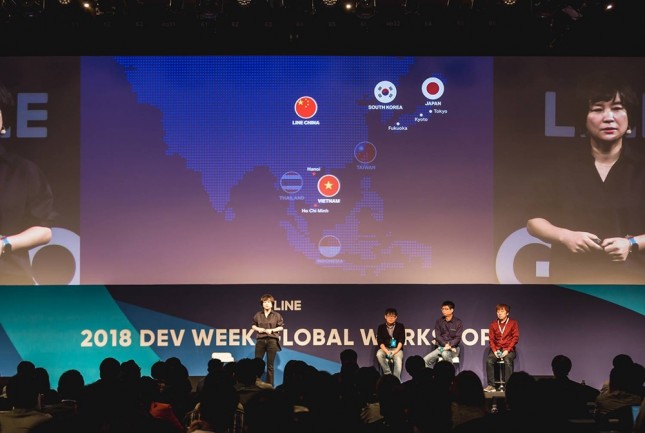 1.000 developers LINE Corporation dari seluruh dunia berkumpul di Seoul selama empat hari untuk mengikuti workshop di DEV WEEK 2018. (Dok Industry.co.id)
INDUSTRY.co.id - Seoul - DEV WEEK 2018 is over on April 20, with 1,000 LINE Corporation developers from around the world gathering in Seoul for four days to take part in in-depth workshops and listen to presentations on the biggest challenges facing IT future. LINE engineers explore ideas and technologies that will bring LINE to the next level as a smart portal and all-in-one communication platform.
This is the fourth DEV WEEK held since 2013, and once again this event provides developers the opportunity to learn the latest LINE latest trends and progress and get a big picture of how the company plans to grow in the future. With engineers from Korea, Japan, Taiwan, Thailand, Vietnam, Indonesia, and China, the participants enjoyed workshops held in three days, followed by lasting sharing, debate and presentation events.
From 17 to 19 April, the workshop covered about 30 topics. Developers from each field have in-depth discussions on various issues, including difficulties encountered in their work along with feasible solutions, and roadmaps for major projects by 2018. On April 20, each leader from the main LINE section gives presentations and ended with a keynote speech by Chief Technology Officer Euivin Park to all participants.
The main focus of Park presentations is looking at the global expansion of the LINE developers' locations - now in Japan (Kyoto), Vietnam (Hanoi, Ho Chi Minh City) and China (Dalian) - and how engineers in all these locations work together to complete projects important. He also notes how LINE, as part of its dedication to building a technological ecosystem, has plans to enable the adjustment of messaging services through offering PaaS (Platform as a Service) in various markets.
With the release of messaging API on DEVELOPER DAY 2016 in Japan, more than 283,000 LINE chatbots have been made, demonstrating LINE's commitment to expanding the bot ecosystem. Currently LINE plans to provide a greater diversity of message types to create an open API world for users and developers.
Park also explains how LINE works to build a token economy by adopting blockchain technology to LINE features and opening dApps based on incentives information services. However, LINE will also go further, with plans to support in accelerating the development of dApp services beyond the LINE platform and developing its own mainstream blockchain in the near future. To achieve this, LINE is actively managing the developers' locations and accelerating recruitment in other areas and adding unblock and Blockchain Labs in Korea and Japan.
"The incredible ability and determination of LINE developers has played a very important role in creating LINE's leading services and a trusted reputation," Euivin Park said. "LINE is doing its best to build a culture where developers support each other and grow together. DEV WEEK is the foundation for forming a collaborative approach, providing a forum for all our developers around the world and helping to make LINE technology leaders around the world. "