Merck Increases Anemia Education to Prepare Free Anemia Generation
By : Dina Astria And Aldo Bella Putra | Tuesday, May 01 2018 - 15:30 IWST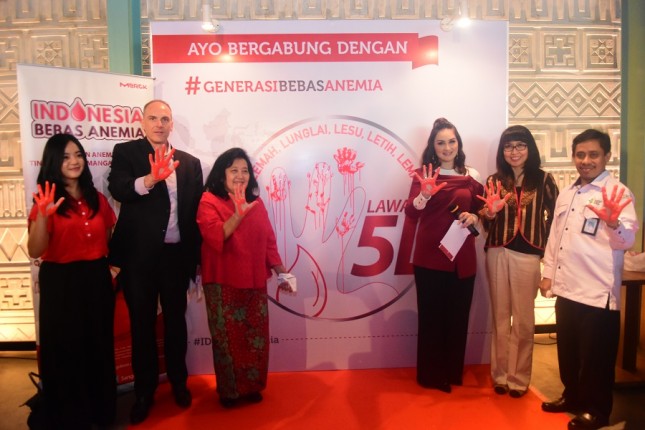 Merck mempersiapkan generasi produktif dengan kampanye Indonesia Bebas Anemia.
INDUSTRY.co.id - Jakarta - Anemia is one of the most common diseases in Indonesia with 1 in 5 Indonesians having a risk for anemia. Nevertheless, many of the uneducated societies will have symptoms, effects and coping with anemia.
Knowing this, since 2016 Merck launched the "Indonesia Bebas Anemia" campaign as a tangible form of raising awareness of anemia. To continue its commitment, Merck resumed the "Indonesia Bebas Anemia" campaign in 2018 through a launch event and a discussion session on the theme "Generation of Productive, Generation of Anemia Free".
This theme is lifted from the awareness of the importance of preparing the next generation of productive and quality of the nation as a precaution in welcoming the era of demographic bonus. In the next 2020-2030, Indonesia is expected to have a saving of productive age population as much as 60% or equivalent to 180 million inhabitants. For that, this year Merck again took the Indonesian Medical Doctor Nutrition Association and supported by the Ministry of Health of the Republic of Indonesia and the 1000 Teacher community.
Dr. Marina Damajanti, MKM, Head of Sub-directorate of Clinical Nutrition, Ministry of Health of the Republic of Indonesia explained, "Demographic bonus is the condition that a country enjoys from the large proportion of the productive age population, as will be experienced by Indonesia in 2020-2030. However, if not properly prepared, productive people can have adverse effects because of unqualified human resources. On the other hand, anemia has been shown to lead to a decrease in work productivity in the productive age population which will certainly affect the quality of human resources that become the future of the nation in the future. In response to this situation, the Ministry of Health initiated the GERMAS program as a solution to reduce the burden of disease through healthy lifestyles that include specific nutritional interventions with points of promotion and promotion of Blood Plus Tablets for girls, brides and pregnant women. "
The Ministry of Health also welcomes and supports the Anemia-Free Indonesia campaign as an effort to increase understanding of anemia that is expected to create a healthier and more productive generation of Indonesia.
Prof. Dr. Endang L. Achadi, Chairman of the Association of Indonesian Medical Nutrition Doctors (PDGMI) said, "The impact of anemia is often not seen or felt directly, but anemia certainly cannot be underestimated. Anemia has been shown to decrease the productivity of Indonesian women by 20% or about 6.5 hours per week. This will be a major obstacle to the development of qualified human resources in Indonesia. Running healthy lifestyles balanced diet, including eating foods with iron, protein and vitamin levels can be done to prevent and overcome anemia. In addition, anemia can also be overcome by the consumption of iron supplements, adequate rest and exercise regularly. "
Continuing its commitment, Merck this year works with the 1000 Teacher community through Training of Trainers (ToT) to educate Indonesians in a wider range and larger numbers. All volunteers and communities who have received education and training, are expected to continue to disseminate the anemic education to the surrounding community.
"Komunitas 1000 Guru is very pleased and proud to be able to participate in creating the next generation of productive and quality people. Traveling and Teaching travel enables volunteers to directly educate teachers, parents and elementary school students about anemia. Training is done with a simple approach and delivered through a fun game so the material can be absorbed easily by the recipients "said Jemi Ngadiono, Founder of 1000 Teacher Community.
Anie Rachmayani, Associate Director of Marketing of PT Merck said, "The Training of Trainers program has a focus on creating change agents through educational missions simultaneously in 10 districts in Indonesia, where these areas have high prevalence of anemia and are included in the list District / Main City Stunting Intervention from the Ministry of Health. This activity also involved the employees of Merck and the volunteers of 1000 Teachers. We believe in the importance of optimizing the demographic bonus period for positive impacts for Indonesia's development. For that year, Merck continues the commitment of Indonesia Anemia Free with Ministry of Health, PDGMI and Komunitas Guru Teacher. This is realized through various activities in harmony with GERMAS to accelerate the improvement of people's nutritional status through education of anemia. The campaign is open to all Indonesians who care about the development of productive generation, anemia-free generation. "