Trim Regulation and Rules, President Jokowi Supports National Oil and Gas Industry
By : Hariyanto And Aldo Bella Putra | Thursday, May 03 2018 - 19:30 IWST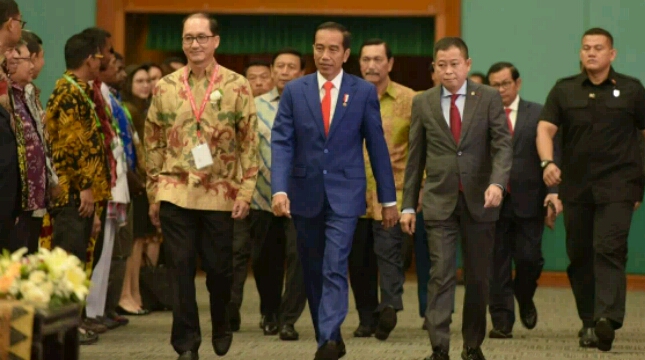 Presiden Joko Widodo pada pembukaan IPA Convex 2018
INDUSTRY.co.id - Jakarta - The government continues to provide support to oil and gas industry players in Indonesia to increase domestic oil and gas investment.
At the opening of the 42nd Indonesian Petroleum Association Convention and Exhibition (IPA Convex) in Jakarta Convention Center on Wednesday (2/5/2018), President Joko Widodo (Jokowi) re-affirmed the support, one of them through the simplification of regulations that are considered to hamper investment as well invitation to millennial generation to take part in the oil and gas sector.
"I ordered last year to slash as many regulations or regulations as possible in the Ministry of Energy and Mineral Resources, which has been trimmed by 180 complicated regulations that make us long-winded investments in this field," said President Jokowi.
President Jokowi said, previously since the 1970s, exploration conducted in Indonesia by contractors is considered not large enough. Therefore, he ordered the Minister of Energy and Mineral Resources to cut the existing regulations and regulations.
President Jokowi hopes that this step can stimulate investment in upstream oil and gas. "What we hope to be more simplified, more facilitated so that more investment into the country of Indonesia," he said.
Jokowi admitted that the oil and gas industry is still the backbone of the national economy. Oil and gas industry is also still a prestigious industry because it requires a huge investment cost and helped support the growth of other industries.
Therefore, the President appeals to oil and gas business actors to continuously improve their reputation and culture in the oil and gas industry, so that the millennial generation of Indonesia is increasingly interested in career in oil and gas sector, taking part in the industry that is still driving the national economy.
"If we have successfully implemented our culture and reputation in the oil and gas sector, our bright and clever young people will not be interested in entering other sectors," said the President.
President Jokowi said that in the list of 10 companies with the largest business value in 2018 world has changed completely from the dominance of oil and gas companies in previous years. The President admitted surprise, there is only one oil and gas company included in the list.
"Here is only one if unjak wrong Exxon 1. Order 1 to 5, all IT companies Apple or parent Google, Microsoft, Amazon then the next sequence there is Alibaba and Facebook," he said.
Millenial generation now, added Jokowi, tend to be interested in career in the e-commerce sector and IT because of its idealism, not just because of the pursuit of large revenues. In other words, today's young people are concerned with the symbols of values ​​and norms in an industry that are undertaken.
"This is a challenge for the oil and gas sector to find young people to be willing to take part in the industry, I hope that the industry culture in the oil and gas sector can follow the e-commerce industry," he concluded.