Pertamina Ready to Add Facility to Enhance travelers' Pleasure
By : Hariyanto And Aldo Bella Putra | Thursday, May 17 2018 - 19:00 IWST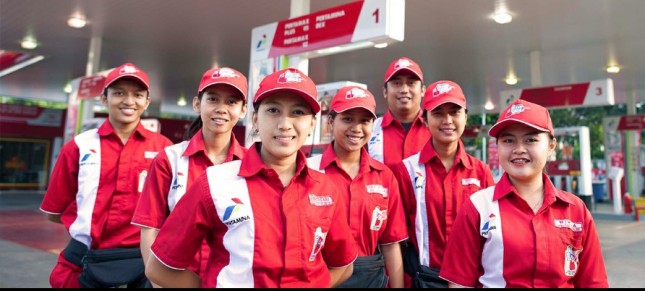 Ilustrasi Pertamina (dok pertamina)
INDUSTRY.co.id - Jakarta - Pertamina is ready to add the necessary facilities in order to improve the comfort of travelers and help smooth the implementation of Lebaran 2015 homecoming.
"Pertamina is already the Task Force of Lebaran," said Plt. President Director of Pertamina Nicke Widyawati in a press conference in Jakarta, Wednesday (05/16/2010).
According to Nicke, it is aware that for Lebaran 2018 it is estimated there will be an increase of about 11% to 13% for homecomers on land routes, some of them are travelers with motorcycles.
In addition, with the addition of toll lanes, should be prepared additionally for gas stations and facilities in the form of fuel packing kiosks.
When the congestion occurs and the vehicle is almost empty of its fuel, while the gas station is still far away, can contact Pertamina which will have about 200 units of motor that will serve BBM travelers.
In addition to land routes, it also has prepared the supply of fuel for sea and air transportation modes. "We've increased aviation supply starting last week," Nicke said.
Previously, Chairman of the House of Representatives Bambang Soesatyo reminded the government and the Police to prepare services Lebaran 2018 as a whole for the security and comfort travelers.
"There are some things that need serious attention so that the upcoming homecoming season is really smooth, safe, and comfortable," said Bambang Soesatyo in Jakarta, Tuesday (15/05/2018).
According to Bambang, the peak of Lebaran 2018 is estimated on 9 s.d. June 10, 2018, while the peak of the reverse flow is expected on 23 s.d. June 24, 2018.
Minister of Transportation Budi Karya Sumadi said that the condition of going back and forth in Lebaran 2018 will be better than the previous year, following the completion of a number of toll roads and the improvement of non-toll roads.
"The government is continuously trying to complete the road infrastructure for going home and back and forth so it is feasible and safe," said Minister of Transportation Budi Karya to the press in Semarang, Wednesday (05/16/2018).
Minister of Transportation Budi assessed the implementation of Lebaran homecoming flows in the past year has been good and this year strived could be better again by continuing to make improvements, the completion of infrastructure one toll and non-toll road.