Social Business Concept a la Helga Angelina 'Burgreens' Has Social Impacts to Peasant Community
By : Dina Astria And Aldo Bella Putra | Thursday, May 17 2018 - 20:00 IWST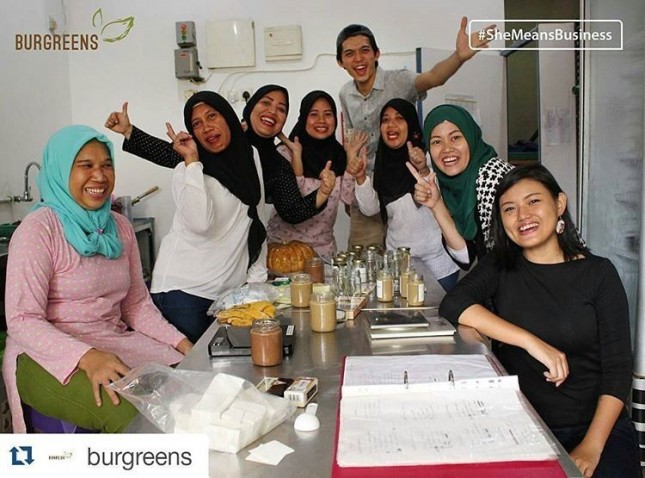 Helga Angelina dan suami, bantu memberdayakan petani lokal dan wanita dalam produksi bisnis kuliner Burgreens. (Foto: Instagram Burgreens)
INDUSTRY.co.id - Jakarta - Founder Burgreens restaurant, Helga Angelina is determined to disseminate a healthy lifestyle through basic materials used by Burgreens and some healthy lifestyle education programs. Helga also implements the concept of social business or sociopreneurship to 200 farmers from around 20 farming communities in Indonesia. Helga is cooperating to take basic materials for its restaurant business from the farmer's community.
"If the fresh produce, we take from the farming communities from Cipanas and Bogor. If the dry, we take from Banyuwangi, Bali and depending on each area of ​​his organic produce what, "said Helga Angelina when found Industry.co.id on Monday (14/5) ago, in Menteng, Jakarta.
However, when viewed in terms of the concept of social business, Helga explained that once the business grows, the social impacts of the farming community also grow.
"If we measure from the number of farmers we are cooperating with, and what percentage of our food costs are directly received, they provide a good social impact. Social impacts here are like the money we pay to the farmers, they use to support their families or send their children to school, "added Helga.
For example, one of the farming communities working with Burgreens is Yayasan Usaha Mulia. The profits they get, they use to recruit high school students to learn to become organic farmers and provide free education for farmers' children.
"Then, the women farming community in Bogor, they use their profits to encourage women to improve financially by becoming farmers," he added.
In addition, Burgreens also empower housewives in Bumi Serpong Damai, South Tangerang, to manage the production house. They are in charge of making ingredients such as sauces, patty burgers, and desserts to be consumed in four Burgreens branches.
"All of these ingredients are cultivated organically and directly purchased from farmers to cut distribution channels and increase the income of local farmers," said Founder of Burgreens.
Previously, Helga Angelina has earned several awards, among them, One of 30 Under 30 by Forbes Magazine (February 2016), Anugerah Perempuan Hebat Indonesia by Liputan6.com (April 2017), Women of The Year by Her World (2017) and Entrepreneur Partners Social PT Bank DBS Indonesia (October 2017).