Demiz Makes Cianjur-Bogor-Depok-Sukabumi to Become Granary Sound
By : Herry Barus And Aldo Bella Putra | Sunday, May 20 2018 - 22:00 IWST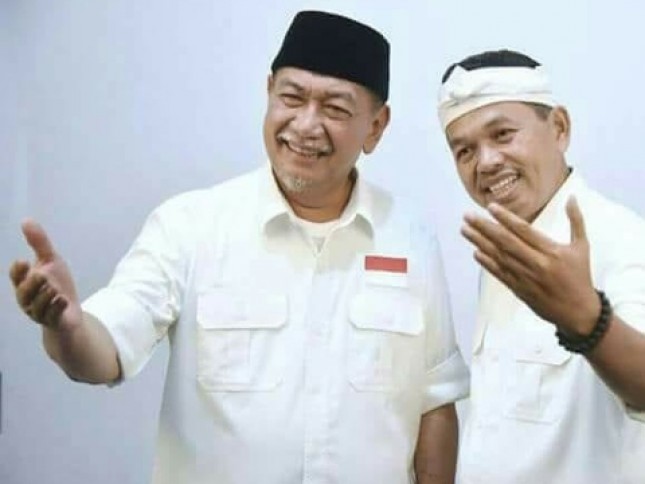 Deddy Mizwar-Dedi Muyadi (Foto Dok Industry.co.id)
INDUSTRY.co.id - Bandung - West Java Governor Candidate number four Deddy Mizwar or Demiz made Cianjur, Bogor, Depok, and Sukabumi as the granary for his victory with his partner Dedi Mulyadi in Pilgub West Java 2018.
"Cianjur, Sukabumi City, Sukabumi District, Bogor City, Bogor District, and Depok, the region of this region with the largest DPT in West Java, nine million more. This became one of our main targets to achieve support," said Demiz in a press release in Bandung, Sunday (20/5/2018)
He asserted that the belief was supported by the movement of party machines and supporters to the remote areas and in the last survey, the difference of victory with the heaviest competitor, the couple Ridwan Kamil and Uu Ruzhanul Ulum or Rindu reached 11percent.
"The party machine is now optimal, and we can see from our last survey that 11 percent surpassed another couple, hopefully there will be no obstacles, we are ready to accept victory or defeat," he said.
Meanwhile, Chairman of DPC Democratic Party of Bogor City, Edy Sitorus said, the popularity of Deddy Mizwar as a public figure is very easy for the party to boost the level of election in this Pilgub Jabar.
Moreover, he said, Depok is an area with urban community type that can be sure all have been literate information through various media.
"Mr. Demiz is already well known because he is incumbent (former Vice Governor of West Java) and also the artist, and Depok is an urban area, it means he has recognized his figure," said Edy.
According to him, Depok himself at least pocketed more than a million votes purely party supporters as the initial capital of the winning pair Deddy Mizwar and Dedi Mulyadi.
Therefore, various strategies are also done to achieve as many sounds, including the movement from mouth to mouth.
"We will continue to socialize Demiz and Dedi Mulyadi to the community, tomorrow will be held socialization in Beji and Cimanggis sub-districts," he said.