Lebaran 2018, Pertamina Forms Fuel and LPG Task Force
By : Ahmad Fadli Dan Aldo Bella Putra | Friday, May 25 2018 - 22:00 IWST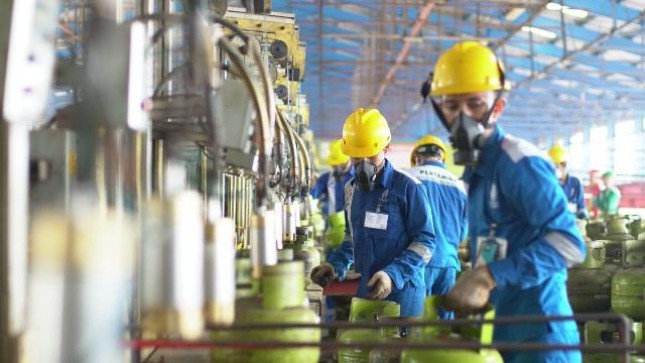 Memasuki pekan kedua Ramadan, Pertamina mencatat konsumsi LPG menunjukkan peningkatan 5% dari rata-rata konsumsi normal.
INDUSTRY.co.id - Jakarta - Pertamina projected during Ramadan to Idul Fitri 2018 consumption of fuel oil (BBM) and LPG daily nationally raised an average of 15% when compared with the usual day.
Pertamina Corporate Marketing Director Basuki Trikora Putra said the company has prepared to face Ramadan and Idul Fitri 1439 H by establishing Task Force (Satgas) BBM and Elpiji Idul Fitri 2018.
"This Fuel Task Force is tasked with guarding the availability and smoothness of distribution to all parts of Indonesia as well as serving the needs of BBM and LPG for the people, especially travelers, during Ramadhan and Idul Fitri 2018," said Basuki some time ago.
According to him, the Fuel Task Force will start working on H-15 to H + 15 Eid. The post of Satgas BBM is in the Ministry of Energy and Mineral Resources (ESDM) and in the Office of PT Pertamina (Persero) Pusat.
Pertamina estimates that the highest daily fuel consumption increase will occur in Pertalite type from 46,000 KL to 55,000 KL or up 20%, followed by Pertamax from 15,000 KL to 18,000 KL or up 15%, Premium from 24,000 KL to 26.000 KL or up 7%, Pertamax Turbo from 787 KL to 820 KL up 5%.
As for Dexlite from 1.598 KL to 1.678 KL or up 5%, Dex from 485 KL to 504 KL or up 4% and Avtur increase from 15,000 KL to 16,000 KL or up 5% while diesel demand is expected to fall from 35,000 KL daily average to 30,000 KL.