The opening ceremony of the Asian Games will be the World's Most Expensive
By : Amazon Dalimunthe And Aldi Firhand A | Monday, May 28 2018 - 21:39 IWST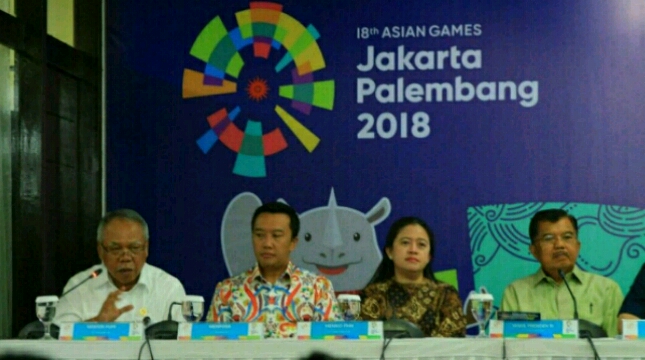 Coordination meeting on the preparation of the Asian Games XVIII
INDUSTRY.co.id - Jakarta - Organizing Committee of Asian Games 2018 (Inasgoc) yesterday began to provide an overview of preparations for the opening ceremony of the event and the closing of the 2018 Asian Games. The opening ceremony procession stage on August 18, 2018 mentioned will be one of the grandest event than the previous world sport event.
"The stage prepared by, Insya Allah will be the biggest stage ever in the world, even compared to the Olympic opening ceremony everywhere," said Wishnutama, creative director for the opening ceremony and closing of the 2018 Asian Games, at a press conference at Inasgoc office, Senayan, Central Jakarta, Sunday, May 27, 2018.
Furthermore Wishnutama said there will be about 10 thousand performers involved in the opening ceremony later, among which thousands of dancers will show various dances typical of Indonesia. As many dancers are involved, the performers' exercise should be done in 18 places. "We can not find the ideal place so they practice in 18 places," he said
Inasgoc also involved a number of Indonesian arts workers in the opening and closing of the 2018 Asian Games. They include the composer Addie M.S. and Ronald Yunardi, director of Denny Malik dan Eko Supriyanto dance and Dynand Fariz and Rinaldy Yunardi. This is the second time Indonesia hosted the Asian Games. Previously, Indonesia hosted in 1962.
Responding to the involvement of the Foreign Event Organizer (Five Current) in the Asian Games 2018 event, the artists who attended the compact said the participation of Five Current from the United States as Mind Organizer to handle the opening ceremony of Asian Games 18 is needed. With the hope of sucking knowledge and experience in the field of great engineering stage.
"The existence of foreign vendors is only in the form of technique only, while the artistic creativity in the stage is still handled by local artists (national) so that the existence of national artists remain dominant in the opening and closing of the Asian Games," said Denny Malik who gets the choreography with Eko Supriyanto.
Denny acknowledged, techniques owned by foreign vendors quite sophisticated. Even the instructions given to the dancers are very large use, without having to shout shouted using a sound device. It should be used while learning a lot about modern electronic techniques or tools.
Addie MS as the music composer for opening and closing events, also acknowledged that the involvement of Five Current is merely a matter of technical rather than creative. "There are many things that we are learning from them. For example, about the cutting of songs for a few seconds for their particular purposes discussed first. Equally looking for solutions to produce the best, "Addie said.
For the opening and closing ceremonies, Inasgoc budgeted Rp. 700 billion of the total cost of hosting the Asian Games which will open on 18 August 2018. (AMZ)