President Jokowi: Muhammadiyah People Successful to Take advantage on Social Media
By : Herry Barus And Aldo Bella Putra | Wednesday, May 30 2018 - 15:00 IWST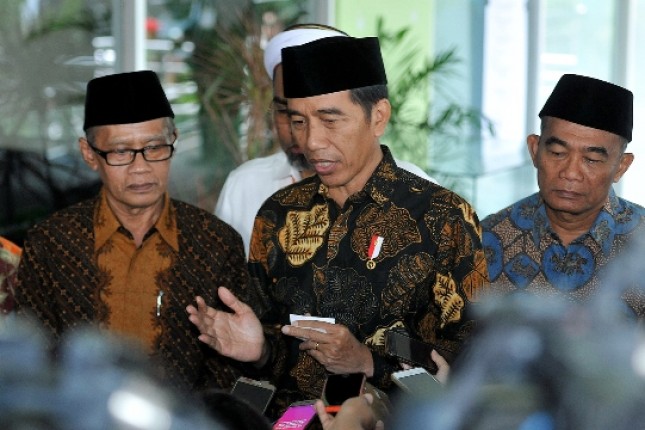 Presiden Jokowi (Foto Setkab)
INDUSTRY.co.id - Jakarta - President Joko Widodo mentioned that many Muhammadiyah leaders are successfully utilizing social media to spread the message of Islam.
President of Joko Widodo (Jokowi) at Muhammadiyah University Prof. Dr. Hamka (Uhamka), Ciracas, Tuesday (29/5/2018) in the closing ceremony of Ramadhan 1439 Hijriah held by Muhammadiyah Central Executive, realized the potential use of social media to share information, including spread the da'wah of Islam such as a number of Muhammadiyah leaders who successfully take advantage of it.
"Dakwah is now also a lot of who use Instagram, Youtube, facebook, and twitter.For example in Muhammadiyah, Prof. Din Syamsuddin followers 129 000. KH Haedar Nasir have 12000 followers.Now a lot of Yes it is now the use of social media like this very effective, "he said.
He said, the use of such technology is absolutely done today if you do not want to be left behind. However, on the other hand, the use for negative things must also receive special attention.
"If the use is not true, it could be off the mark, very dangerous, if we open social media, how to criticize, scorns, open disgrace, convey bad things," he said.
Therefore, the Head of State sees the need for everyone to understand adab in social media. One of them is to strengthen the values ​​of religion and culture of Indonesia is full of politeness.
"Indonesianness will be very important in fortifying us, not to be associated with manners and manners to be lost because of the influence of the digital era," said the President.
At the event, the President also expressed his gratitude to Muhammadiyah for communicating in good ways with the government. Muhammadiyah also called often provide constructive criticisms accompanied by solutions so this is what is expected and appreciated by President Joko Widodo.
"I am very grateful to PP Muhammadiyah who keeps on and always communicates well with the government, also gives constructive criticism and solution, I think it is something that we continue to examine the inputs," he said.
On that occasion the President was accompanied by Minister of State Secretary Pratikno, Education Minister Muhadjir Effendy, and Special Staff Coordinator of President Teten Masduki.