BCA Wins Award at The Indonesia Digital Innovation Award 2018
By : Wiyanto Dan Aldo Bella Putra | Thursday, May 31 2018 - 18:05 IWST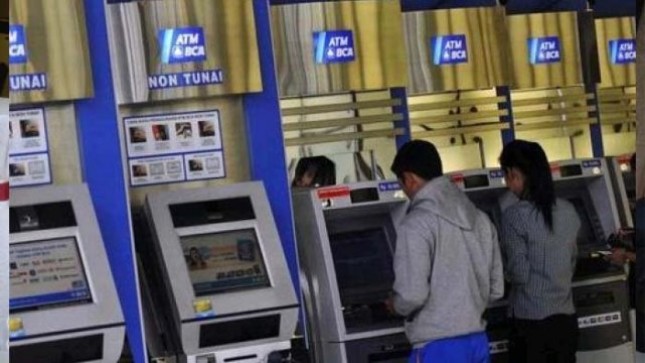 Ilustrasi ATM BCA (Foto Ist)
INDUSTRY.co.id - Jakarta - BCA Achieves Award at the Indonesia Economic Innovation Award 2018 Jakarta, May 31, 2018 PT Bank Central Asia Tbk (BCA) is committed to bringing sustainable financial services and product innovation solutions to enhance competitiveness in the midst of increasingly competitive banking competition.
BCA's consistency in innovation is appreciated by the achievements of Innovative Company Award in Digital Transaction and Customer Services of National Private Bank category in the event of Warta Ekonomi Indonesia Digital Innovation Award 2018. Present to receive the award, Senior Executive Vice President of Strategic Information Technology BCA Hermawan Thendean submitted by Expert Staff
Minister of Social, Economic and Cultural Affairs of the Ministry of Communication and Informatics Lala Kolopaking, Founder Warta Ekonomi Fadel Muhammad and Chief Editor of Warta Ekonomi Muhammad Ihsan at Balai Kartini, Friday (25/05). In the midst of Indonesia's current economic growth, it is important to utilize digital technology in order to compete and survive in the midst of increasingly competitive competition.
Therefore, BCA is constantly improving performance and improving the quality of banking services and products by bringing technological innovation to enable customers to enjoy banking transactions quickly, easily, safely and comfortably. This is the key to the success of BCA control of the market share of banks in Indonesia, said Hermawan.
Warta Ekonomi Indonesia Digital Innovation Award 2018 is organized by Warta Ekonomi through research method and determined based on several assessment criteria. The method used is the method of desk research, which collects data through the publication of the company and the latest news contains relevant information needed. Assessment is also based on criteria, such as digital innovations made over the past two years, the advantages of digital innovation, the benefits of digital innovation for companies, and the benefits of digital innovation for stakeholders. Innovative digital banking services are one of the benefits of BCA that drives customer satisfaction and loyalty.
Convenience, convenience, and security in transactions have created high customer confidence in BCA. Therefore, BCA continues to proactively to innovate products and services according to changing customer needs and technological developments, said Hermawan. Consistently delivering digital-based innovation, BCA never stops providing innovative digital-based products and services, one of them is Virtual Assistant Chat Banking BCA (VIRA). VIRA can be used to access information on BCA's latest promotions, updated and complete foreign exchange rates, nearest ATM locations, even online lists for credit card and mortgage applications. In addition to the information, VIRA will assist customers in conducting banking transactions, such as check balances, checks account transfers for the last 3 transactions, the remaining limit, credit card and billing transaction and administration for registration or close credit card service.
The various awards achieved by BCA is certainly a pride, as well as a challenge for us to always maintain and even improve the quality of services and banking solutions for loyal customers as well as a motivation for us to maintain solid business performance growth, "Hermawan concluded.