Special Strategic Partnership Organization of Journalists Indonesia and South Korea
By : Anisa Triyuli And Aldo Bella Putra | Thursday, May 31 2018 - 19:30 IWST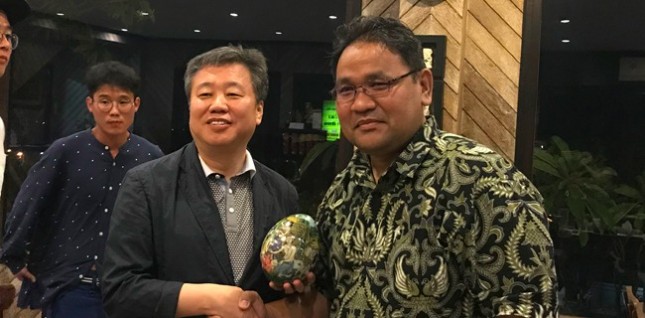 Jung Kyusung dan Teguh Santosa (Foto : dok Industry.co.id)
INDUSTRY.co.id - Kuta - Indonesia and South Korea have stepped up the two countries' relationship of strategic partnership to a special strategic partnership. This was agreed in a meeting between President Joko Widodo and President Moon Jaein in Jakarta last November 2017.
Chief Foreign Affairs Officer PWI Teguh Santosa in a dinner with delegation Journalists Association of Korea (JAK) in Kuta, Bali, Wednesday (30/5). Saying, accompanying the improvement of relations between the two countries, it is appropriate for journalist organizations in both countries, The Indonesian journalist (PWI) and Journalists Association of Korea (JAK) also increased the relationship to a special strategic partnership level.
"The relationship between PWI and JAK since 2013 has been very good, it is time to improve this relationship to become a special strategic partnership, marked by a broader scale cooperation program, involving working journalists, oriented towards capacity building of journalists," said Teguh.
Teguh's proposal was welcomed Jung Kyusung. According to Jung Kyusung, President of the Journalists Association of Korea (JAK), Indonesia is increasingly attracting the attention of the South Korean press community.
Teguh and Jung agreed, one of the programs oriented to strengthening the capacity and experience of journalists such as the apprentice of Indonesian journalists in South Korean media and vice versa, internship of South Korean journalists in Indonesian media.
Both parties will select journalists in each country who are interested to participate in this internship program, in addition to finding a media company where internships are conducted.
In addition, it was also agreed in the talks that the technical internship program will be matured in the next meeting opportunity in South Korea. PWI entourage is planned to visit South Korea at the end of July.
JAK delegation arrived in Indonesia last week (Thursday, 24/5). During his two-day visit in the capital, they visited the offices of the Ministry of Public Works and People's Housing related to the readiness of the Indonesian government to welcome the 2018 Asian Games.
Furthermore, last weekend (Saturday, 26/5) JAKbertolak party to Bali resort island. While in Bali a group of South Korean journalists visited the Bali Disaster Control and Disaster Management Center (Pusdalops) Headquarters to hear an explanation about Bali's readiness to host the International Monetary Fund (IMF) and World Bank meetings.
They also received information that Bali is currently very safe to visit even though the eruption of Mount Agung has not stopped.
In particular, the technology and preparedness of Bali BPBD in handling foreign and local tourists received praise from Korean journalists.
On the last day of his visit in Bali, PWI introduced the Uluwatu tourist area to a South Korean journalist entourage. The natural beauty of Uluwatu and the exoticism of Kecak Dance so that they cover the journey before finally returning to South Korea on Thursday (31/5).