PLN Spends Rp 4.64 Billion for Community Development CSR Program
By : Ahmad Fadli Dan Aldo Bella Putra | Wednesday, June 06 2018 - 22:00 IWST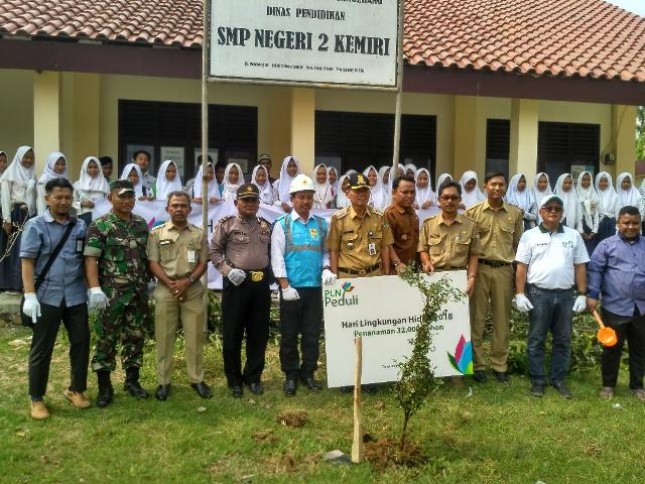 PLN se-Indonesia secara serentak melaksanakan penanaman 32.000 pohon yang ditanam di 32 unit operasional PLN dan juga di lahan kritis pada Selasa (5/6). (Foto: Fadli INDUSTRY.co.id)
INDUSTRY.co.id - Tangerang - To commemorate World Environment Day on June 5, 2018, PLN in Indonesia simultaneously planted 32,000 trees planted in 32 units of PLN operations and also on critical land on Tuesday (5/6).
In Tangerang, tree planting by PLN of the West Java Parent Development Unit (PLN UIP JBB) was symbolically implemented at SMPN 2 Kemiri, Lontar Village, Kemiri Sub-district, Tangerang, Banten and attended by Kemiri Sub-District Head, Mauk Police Headquarters, Danramil Mauk, Education Office Kab. Tangerang, Head of Environmental and Sanitation Office of Kab. Tangerang, Kadesh Lontar, Karanganyar Kadesh and Kadek Klebet, and K3L team and General Manager of PLN UIP JBB and General Manager of Indonesia Power UJP Banten 3, Lontar.
Ratnasari Sjamsudin, General Manager of PLN UIP JBB revealed that this CSR program as a form of PLN concern to the environment.
"PLN as a company engaged in electrical energy must be responsible for preserving the surrounding environment This program of tree planting is done regularly by all units in PLN Hopefully this program can also support PLN in reaching PROPER from KLHK so as to maintain Green PROPER title and even motivate to obtain a Gold PROPER, "said Ratnasari Sjamsudin.
This tree planting program is a PLN Peduli program (CSR PLN) as a form of PLN concern to the environment to prevent the greenhouse effect and reduce global warming. This program also invites PLN stakeholders, communities and academics to come together to protect the environment.
For the types of plants that are prioritized in this program are the types of productive plants, local plants and plants that can reduce contamination. The tree planting location conducted by 32 PLN units from Sabang to Merauke focuses on the PLN area and the location of the general public, such as coastal areas, river borders, barren land, and others.
Total funds disbursed PLN Cares for planting 32,000 trees throughout Indonesia amounting to Rp 4.64 billion. The funds in addition to tree planting are also used for the maintenance of trees to keep growing well.
For information, the total tree planting target implemented by PLN units in Indonesia in 2018 is as much as 56,000 trees and will continue to grow each year.
The planting of trees by PLN UIP JBB is also equipped with PLN Teaching program at SMPN 2 Kemiri, Lontar. In this activity, the management of UIP JBB provides material to the students related to electricity.
In order for knowledge about electricity infrastructure can be understood with qualified. Thus, young students as the next generation of the nation, able to become the best cadres to participate in maintaining and maintaining electricity for the sake of Indonesia remain bright.