YLKI: Toll Manager Must Take Responsibility for Stone Throwing Case
By : Hariyanto And Aldo Bella Putra | Sunday, June 10 2018 - 15:00 IWST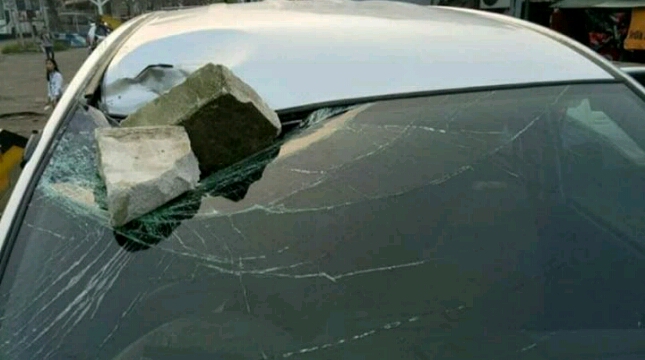 Mobil korban pelemparan batu (ist)
INDUSTRY.co.id - Jakarta - Related to the incident throwing a rock in km 06 Japek toll road on Tuesday (5/6/2018) ago, which killed a consumer, Yayasan Lembaga Konsumen Indonesia (YLKI) said that toll road managers to be responsible.
Chairman of the Executive Board of YLKI, Tulus Abadi in a written statement received INDUSTRY.co.id; Sunday (10/06/2018) requested that police immediately thoroughly investigate the incident.
"The police must investigate thoroughly and arrest the perpetrators, because it is a criminal act," said Tulus Abadi.
Furthermore, YLKI requested that PT Jasa Marga and other toll operators, to identify the JPO (Crossing Place of People) crossing the highway, which is often the act of throwing stones by the elements.
"This is not the first time, but it has happened several times (even if only with gravel)," he added.
PT Jasa Marga, continued Tulus, must provide compensation to consumers as a form of responsibility to realize safe, safe and convenient toll service for its users. "Consumers are entitled to the security of comfort and safety when using toll services," he continued.
According to Tulus, it is not enough for PT Jasa Marga, and other toll managers, if only install CCTV in place of JPO. But also have to do sociological approach in the community, why they do such actions.
"Community development should be done in the surrounding community," he said.
Tulus also said that toll managers must also perform technical engineering on JPOs that cross the highway. "For example, given a solid wire fence that does not allow the action of residents outside the highway that endanger the users of toll roads," he concluded.