These Seven Major Things to Look For In Using Personal Vehicles When Going Hometown
By : Dina Astria And Aldo Bella Putra | Sunday, June 10 2018 - 16:30 IWST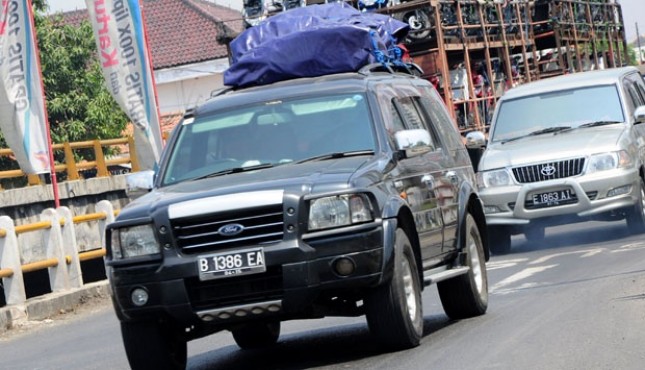 Ilustrasi mudik dengan kendaraan pribadi (Ist)
INDUSTRY.co.id - Entering the period of Lebaran 2018 many responded by various parties, especially about the safety of people on the street. In response, Adira Insurance is always preparing 24-hour service for customers who need help and protection from Adira Insurance.
During the Idul Fitri period, Adira Insurance always prepares contact center Adira Care 1500 456 and rescue unit which standby 24 hours in Indonesia. In addition, Adira Insurance also coordinates with partner workshops scattered throughout Indonesia to anticipate the possibility of a vehicle that will enter the garage due to accidents or various risks during other homecoming.
Julian Noor, Chief Executive Officer of Adira Insurance, asserted, "We are preparing Emergency Road Assistance services such as tow aids, jumpers, tire replacement, accidentally locked vehicles, and other rescue facilities. If Customer is experiencing a misfortune during the trip back and forth, Customer contact the contact center Adira Care 1500 456 or can send SMS at 08121113456. "
During the perode before Lebaran, every year, Adira Insurance routinely sends education about the preparation of good homecoming through SMS blast or social media so it is expected Customers to go home safely so as to minimize accidents, especially in using private vehicles.
Following this Julian will inform related 7 main things to consider in using private vehicles when going home:
1. Check the condition of the car
Make sure your car is serviced before traveling home. This is to ensure your car always runs with the best performance. Not only that, you also have to check the condition of the car like a car engine, radiator, car battery, car tires (wind conditions), and car oil. In addition, you also have to pay attention to the capacity of the car. Do not be forced to carry more passengers.
2. Healthy body condition
When going home make sure your body condition in good health. This condition will be more beneficial for you during the trip until the hometown.
3. Staffs
In order for your homecoming comfortable and avoid the things that are not unexpected, it helps you prepare important items for your trip home. Some items that must be brought include spare tire and jack, toolkit, navigation tool, first aid kit, up to identity card and cash.
4. Rest every 3 hours
For the driver it's good you need to rest at least 3 hours. It is believed to be able to restore your body condition and your concentration will recover. You do not have to rush to get to the destination. Prioritize safety as families wait in their hometown.
5. Obey traffic rules
During the trip back and forth to stay safe and secure, you must keep abreast of the traffic rules. Prioritizing road safety is a valuable thing for you and your family.
6. Save important numbers
You should keep important numbers in case of emergency such as 119 for ambulance, 110 for police, 1500 669 for NTMC Call Center, or company contact center for tow trucks.
7. Divert risk
Various risks during the trip back and forth will increase as the risk of accidents until the demolition of the house inhabited. Make sure you transfer these risks with the insurance company you choose has covered various risks of accidents. Not only that, make sure the insurance you choose also protects the house inhabited. So mudik will be calmer.
"Not to miss, during the trip you also still have to keep your psychological condition. Keep control of your emotions, to make the trip more calm and comfortable, "lid Julian.