Reasonable SP3 Cases of HRS - Firza, The Chat Is Not Original
By : Wiyanto Dan Aldo Bella Putra | Sunday, June 17 2018 - 14:00 IWST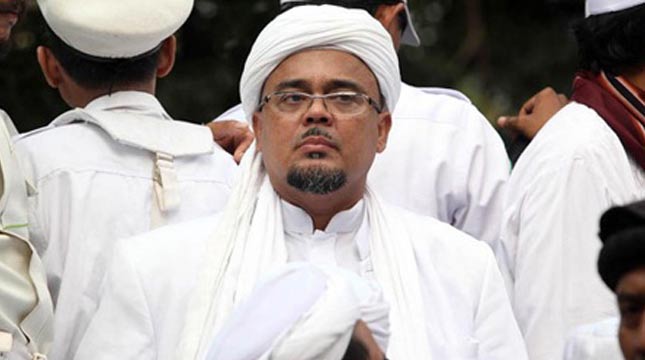 Habib Rizieq (Istimewa)
INDUSTRY.co.id - Habib Rizieq Syihab can officially SP3 in case of alleged chat with Firza Husein. Polri proved to have no solid evidence to continue the case.
Abdul Chair Ramadhan, legal expert said, by giving thanks to the presence of Allah SWT, the State Police of the Republic of Indonesia has provided legal certainty over the case faced by ImamBesar Habib Rizieq Shihab on Polda Metro Jaya. The publication of SP3 on suspicion of criminal acts as previously suspected, namely Article 4 paragraph (1) juncto Article 29 and or Article 6 juncto Article 32 and / or Article 8 juncto Article 34 of Law Number 4 Year 2008 About Pornography and / or Article 27 paragraph (1) juncto Article 45 paragraph (1) of Law Number 11 Year 2008 regarding Information and Electronic Transactions
as amended by Act Number 19 of 2016, constitutes
wise and appropriate steps in order to fulfill legal certainty with justice.
Certainty and justice point not only to the procedural aspect, but must
charged substantial justice.

"Throughout our knowledge, the subject of chat between Habib Rizieq Shihab with Firza
Hussein is very doubtful of its authenticity, it can be said as slander from the parties
certain, "he said in Jakarta, Sunday (17/06/2018).
He says, the clue that supports this opinion is the use of no
legitimate over whatsapp belongs to both and then disseminated to the virtual world with
way against the law. Supposedly, the disseminating party should be
is legally responsible in accordance with the provisions of Article 27 paragraph (1) of the ITE Law.
With such dissemination, Habib Rizieq Shihab and Habib have been from the beginning
Firza Husein is a victim, not the other way around as a suspect.
According to him the legal process in the issuance of SP3 has fulfilled the due process of law with the fundamentals of fairness. In other words, investigators' conclusions have been consistent with fair, logical and feasible formal procedures.
"In the end, we believe there is no interest whatsoever in the publication of SP3.
There is no non-legal interest, everything goes according to the mechanism and rules
applicable law, "he said.
Therefore, the investigator's conclusion to not continue the legal process should be appreciated and appreciated. As a conclusion, we appeal to the public (public) to not question the let alone to question the publication of SP3. Truth is not ambiguous, truth in favor of honesty, not vice versa.