President Jokowi: OIC must unite and be at the forefront of resolving the crisis in Gaza
By : Nata Kesuma | Monday, November 13 2023 - 11:00 IWST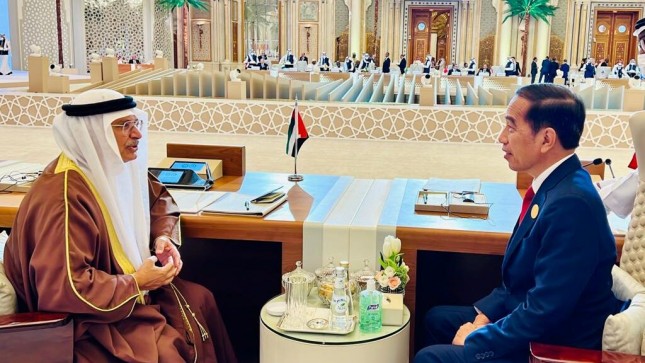 President Joko Widodo attended the OIC Extraordinary Summit which was held at KAICC, Riyadh, Saudi Arabia, Saturday (11/11/2023). (Photo: BPMI Setpres/Laily Rachev)
INDUSTRY co.id - Indonesian President Joko Widodo (Jokowi) encouraged the Organization of Islamic Cooperation (OIC) to unite and be at the forefront of resolving the crisis in Gaza, Palestine.
This was conveyed by President Jokowi when speaking at the Extraordinary High Level Conference (Summit) of the Organization of Islamic Cooperation (OIC) which was held at the King Abdulaziz International Convention Center (KAICC), Riyadh, Saudi Arabia, Saturday (11/11/2023).
"The OIC must be united, must be at the forefront using all peaceful means, all influence, and all diplomatic efforts to defend justice and humanity for Palestine," said President Jokowi.
President Jokowi also supports holding the OIC Summit which is considered very appropriate to do so. The President emphasized that the OIC must be able to produce concrete things so that Israeli atrocities in Gaza can be stopped immediately.
"One month after this atrocity the world seemed completely helpless. "More than 7.9 billion people in the world, more than 190 leaders of countries, but until now no one has been able to stop this cruelty," he said.
For this reason, President Jokowi made four concrete suggestions when speaking before leaders of Islamic countries.
First, President Jokowi urged an immediate ceasefire.
&ldquo Without a ceasefire, the situation will not improve. Israel has used the narrative of ' self defense ' and continues to kill civilians. This is nothing but collective punishment . "We all have to find a way for Israel to immediately implement a ceasefire," he stressed.
Second, President Jokowi encouraged humanitarian aid to be accelerated and expanded in scope. The OIC must propose a more predictable and sustainable assistance mechanism considering that the humanitarian situation in Gaza is very worrying.
&ldquo The humanitarian situation is very worrying. For example, the Indonesian Hospital in North Gaza continues to be the target of Israeli attacks, since yesterday it has run out of fuel. "Indonesia asks all parties to respect international humanitarian law," he explained.
Third, President Jokowi called on the OIC to use all fronts to hold Israel accountable for the humanitarian atrocities it has committed. For example, pressing for access to the Independent International Commission of Inquiry on the Occupied Palestinian Territory which was formed by the UN Human Rights Council to carry out its mandate.
" And continue to support the advisory opinion process at the International Court of Justice," he added.
Fourth, the OIC must urge peace negotiations to restart immediately in order to realize a two-state solution and reject the idea of ​​a one-state solution. According to him, a one-state solution will only result in Palestine being sacrificed.
"If the quartet mechanism is no longer reliable, then the OIC must encourage the peace negotiation process with a new format, and Indonesia is ready to contribute to the peace negotiations," he said.
At the end of his statement, President Jokowi asked for support from OIC leaders to convey the results of the Extraordinary OIC Summit to United States President Joe Biden.
"From Riyadh I have scheduled a bilateral visit to the United States. "With the permission of the leaders, I will convey the results of today's OIC decision to President Biden," he said. (BPMI SETPRES/UN)