Anticipation of Spike in Fuel Requirement Reverse Flow, Posko ESDM Sector Prepares This
By : Hariyanto And Aldo Bella Putra | Monday, June 18 2018 - 15:30 IWST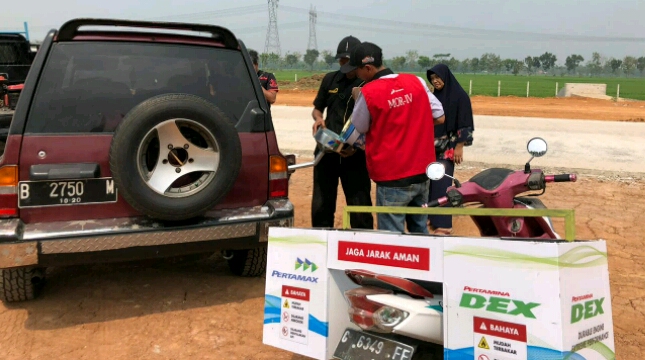 Antisipasi lonjakan bbm
INDUSTRY.co.id - Jakarta - A total of 109 tankers, 32 dispensers, 17 Kiosk Pertamax, 13 Serambi Pertamax and 200 packaging motorcycles, are again alerted by PT Pertamina (Persero) along the Idul fitri 1439 H return flow, anticipating a surge in fuel demand (BBM) travelers who have begun to return to the capital.
The Ministry of Energy and Mineral Resources (ESDM) through the National Post of the ESDM Sector will continue to ensure the fuel for travelers is safe.
"We will coordinate with the ESDM National Post team to anticipate the reverse flow after Idul Fitri. It is predicted that the crowded route of homecoming on June 9 to 10, will return solid on June 19 to 20. While the lanes are crowded on 13-14 June, will return solid on 23-24 June next, "said Chairman of ESDM National Team Post Eid Fanshurullah Asa in Jakarta, (16/6/2018).
Besides Pertamina, AKR also prepared 2 Kiosk AKR packaging located in Pantura line precisely in Batang Regency and Kendal Regency.
"The existence of 10 functional tolls is expected to also be able to smooth the provision and distribution of fuel, among which there are toll roads Pemalang-Batang, Batang-Semarang, Salatiga-Solo, Sragen-Ngawi, Wilangan-Kertosono, Ciawi-Cigombong," said Fansurullah.
For the travelers, the presence of facilities provided by Pertamina is very helpful. Yusa, Pracimantoro travelers said Wonogiri feels calmer with the presence of this additional facility.
"Yesterday when going home from Jakarta-Wonogiri, in the middle of the Pemalang-Batang toll road is so smooth it feels almost run out of gasoline, luckily there is Kiosk Pertamax.Journey back tomorrow also be more calm," said Yusa who will travel back to Jakarta tomorrow Tuesday 19/6/2018) morning.
Similarly, expressed Anggie who forth from Pekalongan to Malang. "It's time to run out of gasoline pas a little jammed out of the toll, Untung see the motor that brought fuel, so relieved not to worry BBM is in when we need," said Anggie.
In addition to fuel, the Government prepares the fulfillment of energy needs in Lebaran this time including LPG, gas network (jargas) and electricity so that the people calmly celebrate the Day of Victory.