The Seeking KM Sinar Bangun Disturbed by Bad Weather
By : Herry Barus And Aldo Bella Putra | Tuesday, June 26 2018 - 18:30 IWST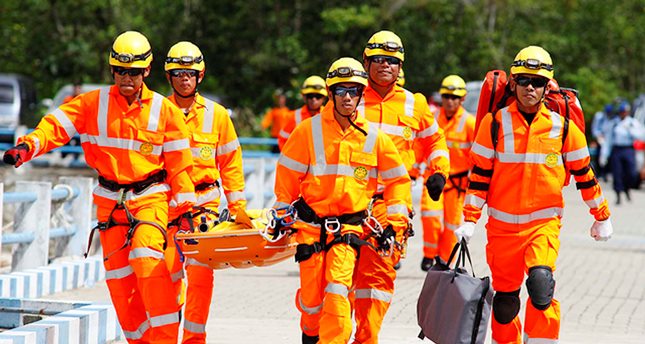 Basarnas (Foto Ist)
INDUSTRY.co.id - Simalungun - Search process KM Sinar Bangun on Monday (25/06/2018) which is the eighth day disturbed bad weather in the waters of Lake Toba.
On the sidelines of the search process from the Port of Tigas, Simalungun Regency, Monday (25/06/2018) Basarnas Deputy Operations Brigadier General Nugroho Budi Wirayanto said, the search process has been done starting at 07.00 pm.
It has used all the tools owned, ranging from sonar scanner (multibeam scane sonar) to rubber boats to comb the waters of Lake Toba.
But at around 15:00 pm, it was forced to withdraw personnel in charge because the weather is not supportive.
"The weather is so unfriendly that we decide to return," he said.
With the wind conditions are quite fast, it sees the waves in the waters of Lake Toba are high enough ranging from 1 to 1.5 meters.
In addition to threatening the safety of personnel in the field, the presence of high enough waves also disrupt the process of detecting ships in the waters.
"The waves are big, the wind is big, then there is the rain, it really determines the results of our sonar scane," he said.
Appropriate direction from the Head of Basarnas M Syaugi, his side extends the process of searching ship and passenger KM Sinar Bangun for three days ie until 27 June 2018.
Although the indication of the existence of KM Sinar Bangun carcass, but it is not too sure so continue to do the detection.
Previously, KM Sinar Bangun carrying a hundred passengers was reportedly drowned in the waters of Lake Toba, between Simanindo Subdistrict, Samosir District and Tigaras Village, Dolok Pardamean Sub-district, Simalungun Regency, North Sumatera on Monday at around 17.30 WIB.
From the process, there were 188 passengers of KM Sinar Bangun. A total of 21 people were rescued, three were killed, and another 164 were expected to disappear. (Ant)