The Government Targets To Build One Million Gas Channels Throughout Indonesia
By : Hariyanto And Aldo Bella Putra | Monday, July 02 2018 - 01:00 IWST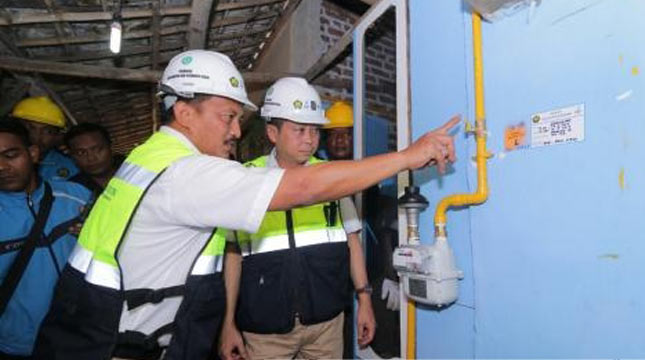 Menteri ESDM Ignasius Jonan meninjau Pembangungan Jaringan Gas
INDUSTRY.co.id - Bandung - The government through PT Perusahaan Gas Negara (Persero) Tbk targets to build about one million gas network in all parts of Indonesia which will be connected to household needs.
"The number of households in Indonesia today is 126 million, our general plan is 4.5 million jargas installed for households, but we are targeting or we want one or two years to build a jargas for 1 million customers," said Director of Infrastructure and PGN Technology Dilo Seno Widagdo, in Bandung, Friday (06/29/2010).
When met at the National Seminar of the National Assembly KAHMI titled "Development of Infrastructure of Natural Gas Network for Household" at Wisma Bandung PT PGN Tbk, Dilo said to accelerate the development of natural gas network it will offer the concept of cooperation with other parties such as business entities to invest.
"I want to offer cooperation between the government and business entities, so the concept is like public private partnership," Dilo said.
According to him, basically it is opening the opportunity to other parties related to the cooperation of the development program of natural gas network for this household but certainly there will be a tight selection for other parties who are interested to explore this cooperation.
Dilo added that the natural gas development program is a long-term effort by the government to reduce LPG subsidy.
"Today our gas reserves can be enough for the next 70 years, but today our oil reserves are declining, at least five years for petroleum and the rest will be imported and subsidized every year for LPG, that is big, worth around Rp30 trillion ," he said.
"The development of natural gas network is much more efficient and safe of course, when compared with LPG," continued Dilo.
Chairman of Commission VII DPR RI Herman Khaeron added that the development of natural gas network is a very useful program for the community and the solution of the provision of energy in the household that can be a solution to the problem of LPG tubes that often experience scarcity.
"Besides being rare, LPG is also expensive but with jargas the channel goes straight into the household and the price is fixed price will not change unless there is a government price policy," Herman said. (ant)