The World Cup Downloads Four Million Subscribers Telkomsel
By : Herry Barus And Aldo Bella Putra | Tuesday, July 17 2018 - 17:00 IWST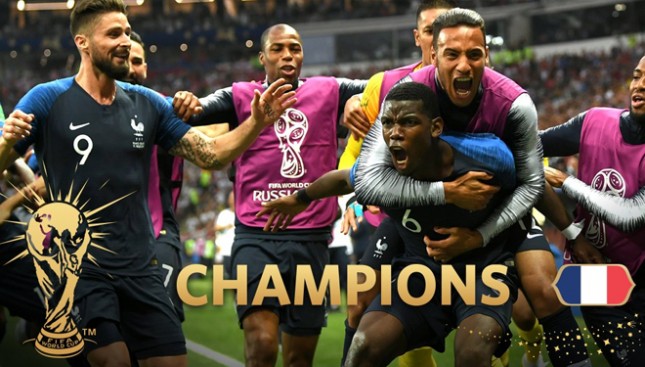 Timnas Prancis berhasil menjuarai Piala Dunia usai menumbangkan Kroasia 4-2 dalam laga final Piala Dunia 2018. (FOTO: @FIFAWorldCup /Twitter)
INDUSTRY.co.id - Pekanbaru - PT Telkomsel as "Licensed Mobile Broadcaster" World Cup 2018, claimed to have earned about four million times by customers during the international football game.
"We are delighted to have successfully delivered a series of 2018 World Cup matches to customers directly on their mobile phones, hopefully they feel the comfort and convenience while enjoying this special title rendition with the presence of MAXstream," said Head of Digital Lifestyle Telkomsel Crispin Tristram to Antara in Pekanbaru on Monday `16/7/20180
Crispin Tristram describes Telkomsel during World Cup event to present the world's largest series of soccer party events for its customers through MAXstream digital video app.
Call Crispin Tristram during World Cup, MAXstream downloaded more than 4 million times where 99% of them are active customers.
Total use of data services (payload) for World Cup channels in MAXstream reaches 6.5 Petabytes.
"Until now we recorded MAXstream has managed to accommodate the total time watch (minutes played) more than 2 billion minutes," he said.
During the group stage, the action of favorite teams such as France, England, Argentina, Brazil, Germany and Portugal became the most watched by MAXstream users.
While up to the semi-finals, the most watched game MAXstream users is the quarter-final match of the French squad against Uruguay. The game attracted 550,000 users.
"The average number of viewers in each match is 500 000. In the same time, the total number of customers who access the MAXstream application reaches 1.1 million per day with average access time for 90 minutes," he said.
Crispin added in the future Telkomsel will continue to develop MAXstream so as to provide a more up-to-date digital lifestyle experience for customers when using this application.
"One of them is by adding more video-on-demand content and TV channels in MAXstream apps, including delivering the world's best sports broadcasts," he added.
MAXstream itself is a one stop video portal from Telkomsel that contains various content such as movies, TV shows, sports and cartoons from various channels of video-on-demand services and international TV channels.
The MAXstream app can already be downloaded from both Google Play and the App Store, and can be enjoyed at no additional cost.
Customers can enjoy MAXstream more efficiently using the monthly VideoMAX data quota package, or the VideoMAX Extra Quota package.
This package is available with quotas ranging from 2 GB to 20 GB with special rates. Customers also have the opportunity to purchase the Extra Quota VideoMAX 30 GB Pack for £ 10, just in the MAXstream app. The purchase opportunity of this package is valid only once per customer.