Dobi, Intelligent Robot from China will be present at Jakarta International Expo Kemayoran
By : Kormen Barus And Aldo Bella Putra | Tuesday, July 24 2018 - 23:30 IWST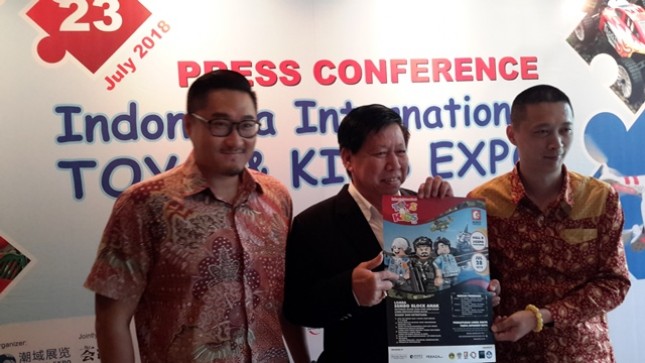 Indonesia Internasional Toys & Kids expo (Foto Kormen)
INDUSTRY.co.id - Jakarta - ChaoYu Expo and Peraga Expo will again hold the exhibition of B2B (Business to Business) of Indonesia's leading toy and children's apparel industry, Indonesia International Toys & Kids expo (IITE) 2018 on 26-28 July 2018 at Jakarta International Expo Kemayoran.
This exhibition is a perfect platform for players in the toy and childcare industry both in Indonesia and Southeast Asia to expand their network and grow their business. The B2B-focused exhibition provides industry players an opportunity to exchange information and find opportunities to collaborate on developing long-term business.
ChaoYu Expo General Manager, Jason Chen, said Indonesia is a lucrative toy market. This is supported by the growth of population, economy and domestic toys needs.
"This exhibition is expected to be a business meeting between entrepreneurs, exporters and all relevant stakeholders in the development of the national toy and child products industry," he said.
According to Jason, IITE 2018 is evolving very well in sight from a vast exhibit that covers 4000 m2, twice as wide as last year's exhibition. It hopes to take the opportunity to promote cooperation between Indonesia and China in toys intelligent robot from China named Dobi.
Robot Dobi is a smart robot who managed to maintain the world record as a robot that can dance simultaneously. This is the first appearance of Dobi Robot outside China, showing the high technology of toy manufacturing in China.
Indonesia International Toys & Kids Expo (IITE) 2018 will present more than 2000 kinds of products in toy and child supplies industry such as baby and child toys, baby products, children apparel, baby furniture, electronic toys, learning support, toys plastic and play facilities.
Central Bureau of Statistics (BPS) recorded the value of Indonesian imports in March 2018 reached USD 14.49 billion, up 2.13% compared to February. Similarly, if compared to March 2017 increased 9.07%. When looking at non-oil imports by country of origin of the main goods, China (China) is still the largest import country with a roll of 27, 3% or reaching USD 10.162 million, Japan 11.64% and Thailand 6.89%. While from the EU 9.41 and Asian 20.84%.
BPS data also shows imports of toys, games and sports equipment per October 17, 2017 worth US $ 240.2 million (Rp 3, 24 trillion or grew 49.91% over the same period last year which only reached US $ 160, 2 million (Rp 2.16 trillion.) The most imported toys imported into the national market are ice-skating and roller skates with volume of 5.770 tons.
Then, toy cards of 3, 190 tons, marbles or marbles as much as 2.790 tons and assemblies of reduced models such as aircraft models and the like as much as 1.870 tons. Meanwhile, judging from the home country, China became the country that sent the most toys to Indonesia, followed by Singapore, Denmark, Malaysia and Japan.
This year, 116 companies from China, Hongkong, Malaysia, Thailand and Indonesia attended the 2018 IITE exhibition, using the exhibition area twice as wide as last year. 15% of exhibitors come from Indonesia. Improvement of the exhibition is the response of the toy industry to the good response of the exhibition last year.
Lukas Sutjiadi, Chairman of Indonesia Toy Association, said the current toy market is still stable not too lethargic as in the first quarter. Although the imported toy market is around 65-70%, of which about 60% comes from China, it does not really affect the domestic toy industry. (Kormen)