Be careful, these are symptoms of anemia and pimples in children
By : Chodijah Febriyani And Aldo Bella Putra | Wednesday, July 25 2018 - 16:00 IWST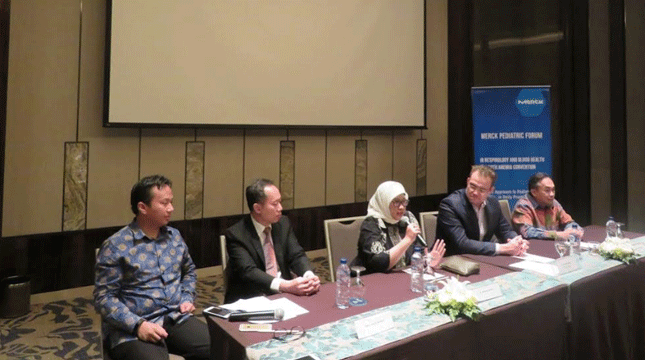 Merck Pediatric Forum 2018
INDUSTRY.co.id - Jakarta - Welcoming National Children's Day, Merck, as one of the leading science and technology companies in the health field, held Merck Pedriatric Forum 2018, as one of its commitment to help improve the health quality of Indonesian children.
This event provides a forum for Indonesian and Filipino medical practitioners to discuss anemia and rhinitis diseases in children, especially in Indonesia, generally in Southeast Asia including how to diagnose and manage the treatment of both diseases.
According to dr. "Merck Pediatric Forum 2018 is a continuation of the Merck Anemia Convention 2017 in Manila which is a forum for discussion of anemia attended by delegates from Indonesia, Canada, Austria, Germany, and Ashley Barrow as Merck Consumer Health's Regional Medical Director. Australia, as well as medical practitioners from Southeast Asia. Through the Merck Pediatric Forum 2018, we hope to be a means of sharing information and learning for Indonesian medical practitioners about anemia and rhinitis that often affects children, "he said through a press release received by Industry.co.id.
As is well known, anemia is a condition when the number of red blood cells or the concentration of oxygen transport in the blood (Hb) does not meet the physiological needs of the body. Parents are often unaware of the symptoms of anemia in children, so too late to realize the presence of this disease in their children.
Symptoms of anemia in children such as loss of appetite, difficulty focusing, decreased immune system and behavioral disorders or laymen are more familiar with Symptoms 5L (lethargy, weakness, fatigue, fatigue, weakness), pale face, fireflies.
Based on the 2017 Anemia Convention report, the prevalence of anemia in Southeast Asia and Africa reaches 85 percent, with women and children as the most sufferers. There are 202 million women in Southeast Asia and 100 million women in the Western Pacific aged 15-49 who have anemia.
While globally, 41.8 percent of pregnant women and nearly 600 million preschool-aged and school-aged children suffer from anemia, where 60 percent of cases of pregnant women and about half of cases of anemia in children are caused by iron deficiency.
The fulfillment of nutrients in the first 1,000 days of life is an absolute necessity for every child, and this must begin since the baby is still in the womb. MA gynecologist. Corazon Zaida N. Gamila, M.D., FPOGS from the Philippines revealed, "The role of iron as one of the micronutrients needed by pregnant women during pregnancy determines the quality of children's health in the future. Iron Deficiency Anemia (ADB) in pregnant women increases the risk of bleeding, pre-eclampsia, and infection. Pregnant women who suffer from ADB also risk giving birth to babies with low birth weight, babies with anemia or iron deficiency, even death in infants. "
Dr. Murti Andriastuti Sp.A (K) as Chair of the Iron Deficiency Anemia Task Force, the Indonesian Pediatrician Association (IDAI) who attended the Merck Pediatric Forum 2018 explained, "Iron Deficiency Anemia (ADB) is a common health problem in children. Long-term complications of ADB may include cardiovascular system disorders, immune system, developmental disorders, psychomotor as well as cognitive. Anemia itself can be cured, but the complications that arise can be permanent and cannot be repaired. For that supplementation of iron should be done early, before iron deficiency in children to Iron Deficiency Anemia. "
In addition to anemia, other diseases that can also affect the quality of a child's life are rhinitis. Rhinitis is an inflammation of the nasal membrane that is usually caused by common colds or flu and allergies. In Indonesia, the prevalence of rhinitis is 24.3 percent.
"In acute cases, children with rhinitis can potentially experience other co morbid disorders such as asthma, tonsillar enlargement, and ear or otitis infections. Rhinitis if left unchecked will affect a child's optimal growth and development, especially if rhinitis is experienced to develop into rhino sinusitis and other comorbidities, "said Dr. Darmawan Budi Setyanto Sp.A (K) who attended as a speaker.
Rhinitis is potentially disruptive because the child becomes fussy and difficulty sleeping, so it will interfere with the quality of sleep of children and their parents. Although not classified as a deadly disease, rhinitis can reduce the productivity and quality of family life, as well as potentially incur additional economic burden.
"In dealing with rhinitis, children need to be given comprehensive therapy, in the form of oral therapy and topical therapy. One way to deal with symptoms of nasal congestion is by giving topical therapy that can be briefly (less than 10 minutes), immediately giving the effect of nose relief in children through the administration of oxymetazoline drop," said Prof. Chua H. Antonio. In addition we also want to socialize the trend of washing the nose on the child as one of the prevention of rhinitis, "said dr. Wahyuni Indawati, Sp.A (K).
"The Merck Pediatric Forum 2018 is also in line with Merck WE100's global commitment to help improve the quality of public health in order to live longer and healthier through educational activities, both through educating medical practitioners and educating the general public. We believe that children's health will improve the quality of family and nation's life, "dr. Ashley.