Inequality Rate Continues to Decline, Public Welfare Increases
By : Dina Astria And Aldo Bella Putra | Wednesday, August 01 2018 - 17:00 IWST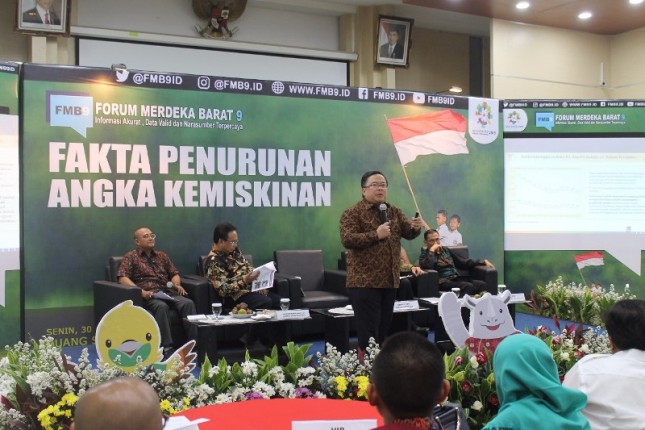 Forum Merdeka Barat (FMB) 9 dengan tema "Fakta Penurunan Angka Kemiskinan" bertempat di Ruang Serba Guna Kementerian Komunikasi dan Informatika, Jakarta, Senin (30/7/2018).
INDUSTRY.co.id - Jakarta - Interesting question, whether the poverty line is low or not, there are differences in way of view is quite significant if using different parameters. Between the parameters of the Central Bureau of Statistics (BPS) with the World Bank are different for the size of the poverty line.
This was disclosed Executive Secretary of the National Team for the Acceleration of Poverty Reduction (TNP2K) Bambang Widianto in Forum Merdeka Barat (FMB) 9 with the theme "Poverty Reduction Facts" in the Multipurpose Room of the Ministry of Communication and Informatics (Kemkominfo), Jakarta, Monday (30/7 / 2018).
Bambang explained, for example household income per month Rp 3 million, is the category of poverty line? For these sizes tailored to the region or country, the parameters between BPS and World Bank are different.
"It seems a bit less relevant to argue there. If the question is altitude, yes not really. If the income is below Rp 3 million, it is fair to say poor, "said Bambang.
In general, the biggest component to measure the poverty line is two things, namely food and non-food groups. For the largest food group is rice, with a magnitude of 73 percent.
"Therefore, why poverty in each province is different, because the way to meet the needs of calories is also different. For example, in Jakarta eating bananas, but in America the value and price is quite high. So it can be said that who can consume bananas means not the poor, "commentator Bambang.
Meanwhile, Bambang continued, the poverty line according to BPS, our poverty line is higher than the poverty line of the World Bank. If the World Bank benchmark our poverty rate in 2016, we go above the poverty line.
"What we need to note is that the pitch line is measured constantly. So do not use. If the benchmark is not eating cassava again, obviously we are not exactly poor because it already consumed rice, "said Bambang.
Therefore, according to the Executive Secretary of TNP2K, if using the parameters of the world bank, poverty in Indonesia is not too low. And this is different from the CPM parameter.
"Poverty alleviation cannot depend only on social assistance, but on the benchmarks and the size of the poverty line itself. One of them by maintained the price, especially the price of rice. That is the most important thing to do at this time, "said Bambang.
Next, according to Bambang, related inequality, in the group of 40 percent down, meaning that government programs proven to accelerate the growth of public consumption at the lowest level.
"Hopefully, if this trend can be maintained, our inequality figures in the future will continue to decline and the impact of public welfare continues to increase," said Bambang.