President Jokowi: Unemployment dropped to 5.13%, the ratio fell to 0.389
By : Herry Barus And Aldo Bella Putra | Thursday, August 16 2018 - 15:00 IWST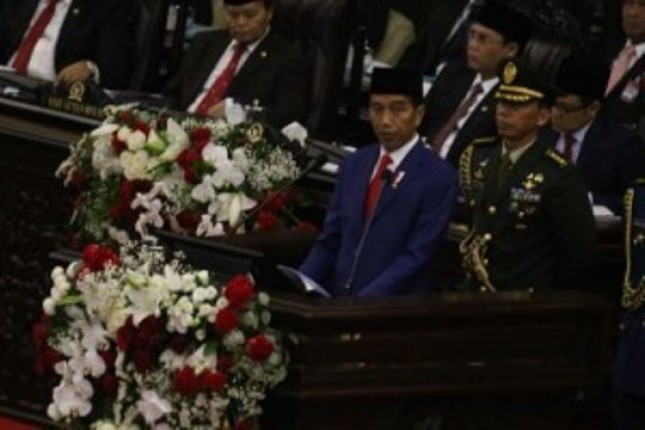 Presiden Jokowi hadiri Sidang Tahunan MPR 2018 (Foto Setkab)
INDUSTRY.co.id - Jakarta - In another part of his speech at the 2018 MPR Annual Meeting on Thursday (8/16) morning, President Joko Widodo (Jokowi) stated that for almost four years, the government has struggled to restore people's trust through real work building the country, from Sabang until Merauke, from Miangas to Rote Island, evenly and equitably.
We want the people at the border, in the outer islands, in the underdeveloped regions to feel the presence of the Republic of Indonesia, said the President.
The President explained, starting in the first year, the government built a solid foundation for a more advanced Indonesia. For this reason, the government focuses on accelerating infrastructure development and increasing productivity and competitiveness of the nation.
He stressed, the acceleration of infrastructure development is not only intended to catch up with us in infrastructure development compared to other countries, but also to foster new economic centers that are able to provide added value to regions throughout the country.
That is why infrastructure is not only built in Java, but on Sumatra Island, Kalimantan Island, Sulawesi Island, Maluku Islands and Nusa Tenggara, to the Land of Papua, said the President in the annual session of the 2018 MPR
But President Jokowi emphasized that the focus of government attention in the last four years is not only infrastructure development. As a country with a population of nearly 260 million, the government prepares Indonesian people to become superior human beings, from the womb to grow independently.
The government, the President continued, works to ensure that every Indonesian child can be born healthy, can grow with adequate nutrition, free from stunting or grow stunted. When they enter school age, no more children, including orphans, are forced to drop out of school due to unreachable education costs.
We realize this commitment through the distribution of the Smart Indonesia Card which in 2017 has reached more than 20 million students, as well as expanding the distribution of the Bidik Misi scholarship program for students, said President Jokowi.
As for the aspect of social protection for disadvantaged citizens, the President said, the Government gradually increased JKN (National Health Insurance) Aid Recipients from 86.4 million people in 2014 to 92.4 million people in May 2018.
The President is grateful, what we are doing is bearing fruit. The quality of Indonesian human life in the past four years continues to improve. The Human Development Index increased from 68.90 in 2014 to 70.81 in 2017. With that result, our country has entered the High Human Development category, said Prresiden.