GIIAS Makassar Auto Show 2018 Ready to Open Tomorrow
By : Ahmad Fadli And Aldi Firhand. A | Monday, August 20 2018 - 21:36 IWST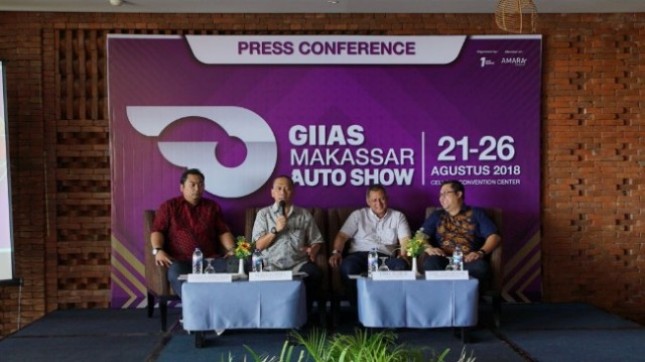 Yusuf Karim Ungsi (Director of One Event), Mr. Kukuh Kumara (General Secretary of GAIKINDO), Mr. Eddy Sumedi (Secretary 1 of GAIKINDO), Mr. Andy Wismarsyah (President Director of Amara Group)
INDUSTRY.co.id - Jakarta - Makassar Auto Show 2018 Gaikindo Indonesia auto show (GIIAS) car show is ready to be held and opened to the public starting tomorrow, Tuesday (08/21/2018).
GIIAS Makassar Auto Show 2018 which is positioned as the largest automotive exhibition in the Eastern Indonesia region will be held on 21 to 26 August 2018 at the Celebes Convention Center (CCC) Makassar located on Jl. Metro Tj. Bunga, Panambungan, Makassar. The selection of the Celebes Convention Center as the venue for the Makassar GIIAS this year is due to the wider location, thus enabling a more lively event to be held.
Re-election of Makassar city to visit GIIAS because Makassar has become a point of economic growth in South Sulawesi.
As said by Mr. Kukuh Kumara as General Secretary of GAIKINDO, that this implementation is a step for GAIKINDO to encourage the growth of the automotive industry in Indonesia. "GIIAS Makassar Auto Show is part of the International automotive exhibition, and as part of GIIAS, the presence of the GIIAS 2018 series in the region represents the spirit of GAIKINDO to build and enlarge the Indonesian automotive industry towards the future, both for industry players in the capital city and industry players in the city another big city, "he said
The planned future of GIIAS Makassar Auto Show 2018, which will be opened by the Acting Governor of South Sulawesi, is ready to present the latest innovations and technologies from more than 30 exhibitors, including the brands of vehicles and motorbikes named for Brand Holders (APM), consisting of 10 brands. passenger car, 2 commercial vehicle brands, 2 motorcycle brands, and more than 17 automotive supporting industries.
By adopting the Autovaganza theme, it is expected that GIIAS Makassar Auto Show 2018 will be an automotive party that satisfies visitors' curiosity about the latest technology from each participant.
With the right momentum after the implementation of GIIAS at ICE BSD Tangerang, so the products brought are the latest products. Revealed by Mr. Yusuf Karim Ungsi as Project Director of GIIAS Makassar Auto Show, that this exhibition will be a miniature of the GIIAS exhibition that took place at ICE - BSD, "The latest and updated products from the automotive industry that were previously exhibited in GIIAS 2018 will be here." Add him.
Various programs have been prepared for all GIIAS friends in Makassar. One of them is a social program that collaborates with Rumah Zakat to provide relief funds to earthquake victims in Lombok.
Besides that, special free entry programs have been prepared, such as VIP Day which is for VIP visitors, communities, and associations that get special invitations, as well as a Free Entry for Friends GIIAS program that is intended for all visitors who have participated in the GIIAS Makassar social media and registered at the exhibition site.
Program events and outdoor activities as usual are also ready to be served for automotive lovers in Makassar. Present at GIIAS Makassar Auto Contest various interesting events such as Car & Motorcycle Modification, Live modification & audio design workshops, to special performances from various car communities.
The operating hours of the GIIAS Makassar Auto Show for Tuesday, August 21, are 10:00 - 18:00 WITA. While Wednesday, August 22, the exhibition's operating hours are 12.00 - 21.00 WITA. In addition to that date, which is Thursday to Sunday, August 23-26, the operating hours of the exhibition will take place normally at 10:00 - 21:00 WITA.
For the price of the entrance ticket for GIIAS Makassar Auto Show 2018 for Rp.10,000. Information and more complete information about GIIAS Makassar Auto Show 2018, please go to the page www.giiasroadshow.com or follow social Instagram media @giias_makassar and Facebook GIIAS Makassar.