President Jokowi will visit Lombok NTB Earthquake Victims
By : Herry Barus And Aldo Bella Putra | Thursday, August 23 2018 - 22:00 IWST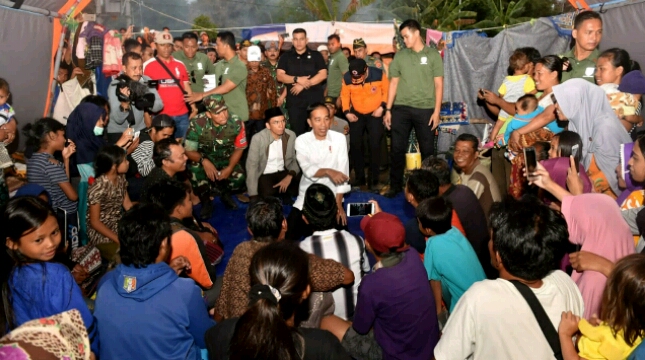 Presiden Jokowi temui korban gempa Lombok
INDUSTRY.co.id - Jakarta - President Joko Widodo is planning a visit back to Lombok to ensure that the handling of the impact of the earthquake in the area is going well.
"Maybe this week or next week, so that people can immediately repair their houses again, there are economic activities that move there," President Jokowi said after meeting with PP Muhammadiyah in Jakarta, Thursday (08/23/2018)
The Head of State said that what was important at this time was the handling of the impact of the earthquake had been carried out nationally by involving the provincial and district governments.
"Indeed, we are still in the stages, especially those relating to the delivery of assistance for house repairs that are severely damaged, moderately damaged and lightly damaged, still in a massive administrative process," he said.
He mentioned that it involved procedures and administration that took time.
"Later when it's finished and there are many, maybe I will come to Lombok, maybe this week or next week," he said.
The President also reminded that there were still aftershocks which were still quite large in magnitude.
Regarding the Presidential Instruction for Handling the Lombok Earthquake, President Jokowi said that he had signed the Inpres.
"With the Presidential Instruction, ministries and institutions, they have a legal umbrella for implementation in the field," he said.
Meanwhile, regarding forest and land fires that began to occur in several regions, the President said that currently cases of forest and land fires had fallen by more than 85 percent.
"I do not want to comment on things related to fires that are one by one. But it is clear that the forest fires have fallen by more than 85 percent compared to the past," he said.
The Head of State mentioned the law enforcement system, supervision in the field, then the issuance of the Presidential Regulation concerning forest and land fires, was quite firm in regulating the forest and land fires.
"The establishment of the Peat Restoration Agency is also the direction there, I think we have been very serious in addressing forest and land fires," he said.
Meanwhile, Cabinet Secretary Pramono Anung when asked about the Instruction on the Management of the Lombok Earthquake said that he did not remember the Presidential Instruction number.
"I can't remember the number, because the process is being promulgated, but the point is that this decree regulates that actually the disaster in Lombok is fully handled like a national disaster," Pramono Anung said.