Use a Boat, Minister Basuki Review Construction of Musi IV Bridge
By : Hariyanto And Aldi Firhand. A | Monday, August 27 2018 - 22:16 IWST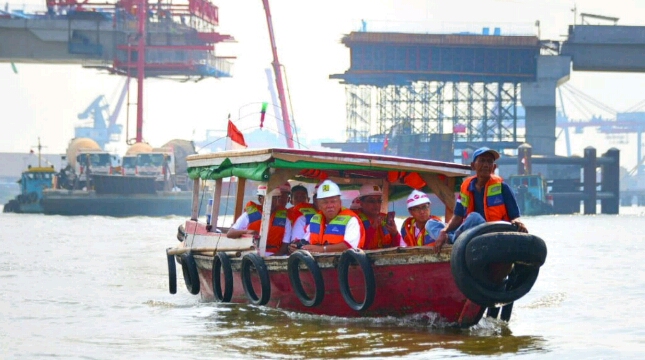 Minister of Public Works and Public Housing Basuki Hadimuljono
INDUSTRY.co.id - Palembang - During the 2018 Asian Games event, the Minister of Public Works and Public Housing (PUPR) reviewed the progress of the Musi IV Bridge construction carried out by the Ministry of PUPR through the National Execution Center (BBPJN) VI (South Sumatra - Babel and Lampung) Directorate General of Highways on Sunday morning (08/26/2018).
The review is carried out using a boat along the Musi River which is crowded with cargo and passenger ship traffic, while crossing the bottom of the bridge.
The presence of the bridge above the Musi River has long been awaited by the people of South Sumatra because it will reduce the traffic burden of the Ampera Bridge and support the smooth mobility in and out of the Metropolitan Palembang.
"Bridge infrastructure, flyovers and underpass in addition to smoothing the flow of traffic also need to be made beautiful by incorporating local cultural elements so that they can become the pride of the community and increase the aesthetics of the city," said Minister Basuki.
Musi IV Bridge is a bridge type Stay Extradosed Cable and U-Girder PC that is built at a cost of Rp 553 billion. It has a total length of 1,130 meters with a main span of 312.8 meters and is equipped with connecting bridges and approaching roads on both sides. The width of the 12 meter bridge is used for road shoulders and two lanes of vehicles.
As of August 26, 2018, the physical progress of bridge construction has reached 90.3% with the rest of the middle span connecting work. It is expected that it can be used by the end of November 2018 that will come.
The aspect of the quality of the construction and beauty of the bridge is considered so as to add to the facial quality of the city of Palembang as the dynamic and legendary city of the Musi River. One of them was the installation of a broken ornament of the Paksangko tribe which was the head jewelry typical of the Kingdom of Srivijaya on the two bridge posts.
The bridge will also be equipped with artistic lights that will add to the beautiful landscape and architecture of Palembang City at night. The aspect of bridge security is a top priority through the application of the Structural Health Monitoring System (SHSM) to monitor the health of bridges and send information to data centers.
A number of infrastructures were also built by the Ministry of PUPR to support connectivity and smoothness during the implementation of the 18th Asian Games in Palembang. Some of them have already been completed including the Flyover Keramasan and the intersection of the airport - Tanjung Api-Api and the preservation of the Ampera Bridge and the national road in the city of Palembang. Meanwhile, what is still under construction is the Palembang-Indralaya Toll Road (Palindra).