Through IPEX 2017, BTN Bank Expects New KPR Capture of Rp 5 Trillion
By : Abraham Sihombing And Aldo Bella Putra | Monday, August 14 2017 - 18:20 IWST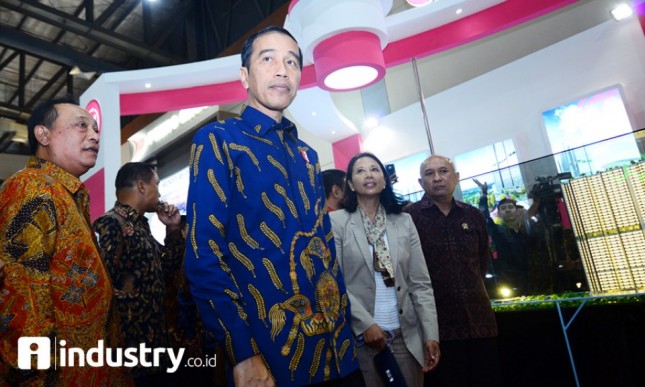 5166
INDUSTRY.co.id - Jakarta - PT Bank Tabungan Negara Tbk (BBTN), or Bank BTN, held an exhibition titled Indonesia Ekspo Property (IPEX) 2017. In the exhibition, Bank BTN which presents 900 housing projects is expected to achieve a new mortgage loan worth Rp 5 trillion.
The implementation of IPEX 2017 is an effort to provide facilities for the public to have a house, especially in the framework of the One Million House Program. Through this exhibition, Bank BTN is expected to increase the distribution of KPR so that it can encourage the increase in market share, said Maryono, President Director of Bank BTN, on the sidelines of the opening of IPEX 2017 at the Jakarta Convention Center (JCC), Friday (11/08/2017).
Maryono said, IPEX exhibition was held in line with the commitment of Bank BTN which became the main integrator of One Million House Program. Through this exhibition, the people of Indonesia, especially in Jabodetabek, can more easily choose and have a home. With the various facilities offered at this housing exhibition, Bank BTN management is confident it will gain a new mortgage loan (KPR) of up to Rp5 trillion.
Maryono explained, through this exhibition, Bank BTN is optimistic to achieve the target of KPR growth between 21-23% in 2017 compared to the previous year. In 2019, Bank BTN also targets a market share of KPR in Indonesia up to 40%.
On a consolidated basis, Bank BTN's mortgage per June 2017 rose 19.13% to Rp127.49 trillion compared to the same period in 2016 of Rp107.02 trillion. Most of the growth of Bank BTN mortgages is contributed by the increase in the distribution of subsidized KPR by 28.34% from Rp49.86 trillion to Rp63, 99 trillion.
Meanwhile, non-subsidized KPR disbursement grew 11.09% to Rp63.49 trillion by the end of June 2017 compared to Rp57.15 trillions until the end of June 2016. With this performance, Bank BTN's mortgage market in Indonesia until the end of March 2017 Reached 35.4%.
IPEX this year is also held in commemoration of National Housing Day (HAPERNAS). The warning initiated by the Ministry of Public Works and People's Housing (PUPeRa) has been declared with stakeholders in the housing sector since 2008, said Maryono.
Maryono said, the government is very serious to make Hapernas which is commemorated every year on August 25 as a momentum to build public housing. In line with the warning, Bank BTN in the IPEX also performs credit agreement simultaneously for 1,000 members of the Police and the general public throughout Indonesia.
In the exhibition which took place on 11-20 August 2017, Bank BTN offers 5% fixed mortgage interest for 1 year and 6.5% fixed for 3 years with an advance of 5% of house price and approved within 1 hour and give A 20% discount for life insurance premiums.
At the exhibition expected to be visited by 300,000 visitors, Bank BTN also offers Bundling KPR facilities for motor vehicle and furniture for home contents and other attractive promo programs. Bank BTN also provides a discount for administrative costs of 50%, 5% interest during the loan period, and a 1% down payment for subsidized KPR program. (Abraham Sihombing)